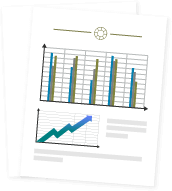 Catering Trends Monthly
Catering Trends: December 2019
The end of the year is upon us, friends. How are you holding up with your holiday events? Is anyone out there hunkering down for the winter with Disney+? WE FEEL YOU. This month, we have lots of cool client projects to share with you in our Nuphoriq blog. And not just one, but two juicy trends pieces. Content or wedding food—take your pick (psst: pick both!) We also have an engaging, well-researched article on what success actually means to Americans and a fantastic wedding spotlight.
By: Nuphoriq
We're taking a quick look back at what we've accomplished with our amazing clients this year. And side note: guys, we've published seven websites in 2019! We can't be more excited about what next year brings and how we can make a more meaningful impact on our client work and relationships. We see you, 2020.
By: Inc.
90% of the participants who were part of the national study "Americans' Perceptions of Success in the U.S." said that they don't see success as "a finite resource that only some can enjoy." When asked to name what they define as success, many chose some things that might surprise you (but probably not).
By: J Scott Catering
Lindsay and Alexander's big day at Springton Manor Farm had a little of everything: summertime breezes, mini crab cakes, a nine-piece band and late-night Philly cheese steaks. And let's just say that the 200-year-old Linden tree made for an incredible backdrop for this particularly memorable ceremony.
By: Search Engine Journal
The future of content has arrived, and we couldn't be happier to hear it. It's no secret that visual storytelling has been leading the way for consumers, many of whom want more video content from brands they support. That and more purposeful content, which includes better writing to be tailored to audiences, more in-depth exploration of topics and you guessed it—better visuals.
By: Brides
Need some wedding food inspiration? This article taps into seven of the most delicious trends right now. You might want to know what makes a dessert station "playful." Or how to pay homage to a bride's hometown. And you might be pleasantly surprised to find out which trend is making a big comeback.