Updated Jan 2023
Catering Industry Statistics
Results from the 2022 International Caterers Association (ICA) industry survey.
Each year, the International Caterers Associations (ICA) asks members to complete a survey. The purpose? To better understand the state of the catering industry. And the results are the most up-to-date catering statistics available.
This year, the ICA heard from over 80 caterers of every size, representing every region of the United States.
In this definitive catering industry report you'll learn:
Lots more
Without further ado, let's dive in.
The definitive source for catering industry statistics
First, let's talk about the data. Who responded to the survey?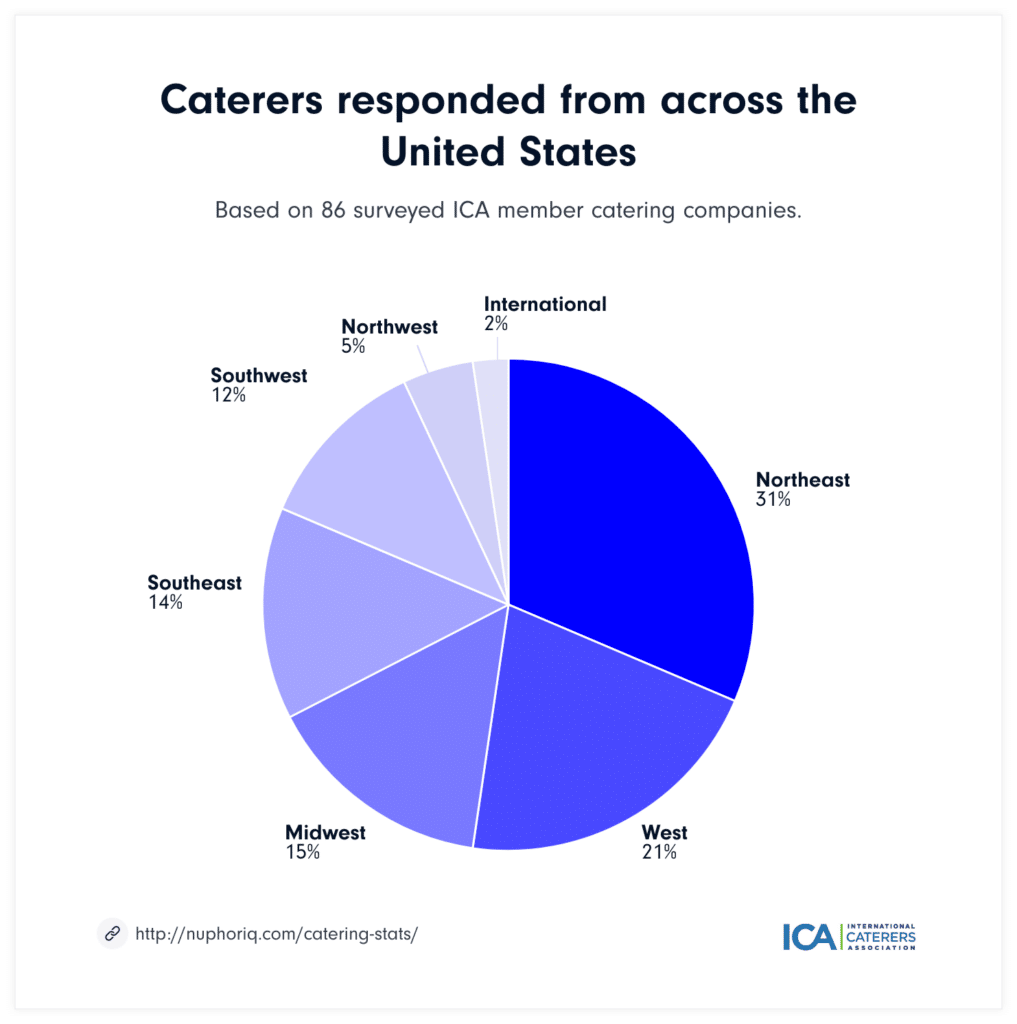 Our statistics come directly from catering business owners. As you'll see in this report, you can start a successful catering company anywhere.
Now let's jump into the findings.
2022 was a great year for the catering industry
Alright, so how did the industry do this year?
We heard from more than a few caterers that had a record year in 2022.
In fact, 92% of catering companies made more money in 2022 vs. 2021.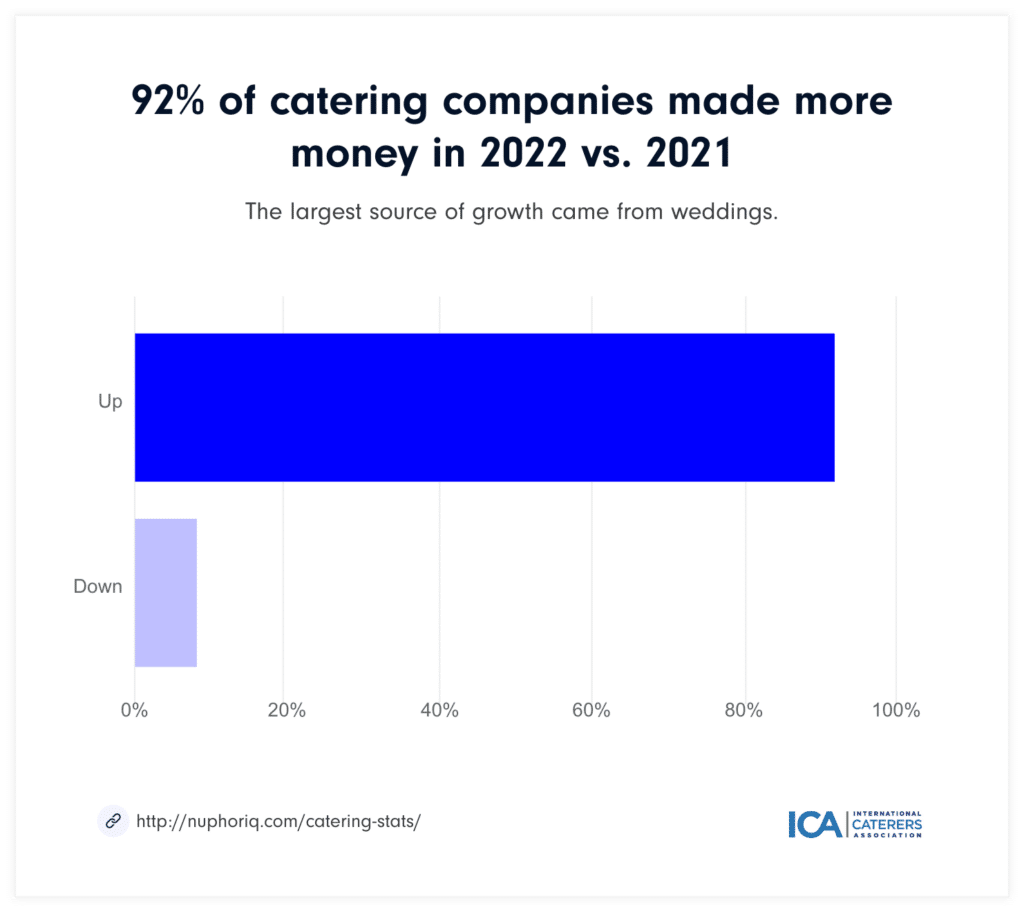 We also wanted to know what types of events are driving growth. Is post-pandemic wedding demand still high? What about corporate?
Good news:
Corporate events are (on the way) back!
48% of caterers reported that corporate events were the largest area of growth.
| Largest area of growth | Percentage |
| --- | --- |
| Corporate: Full-service, staffed events | 42% |
| Weddings | 35% |
| All Other Events | 9% |
| Corporate: Delivery & drop-off Weddings | 7% |
| Galas & Non-profits | 7% |
Wedding catering drove the most sales growth for 35% of caterers.
And when it comes to total revenue, weddings are by far the largest source of revenue for catering companies.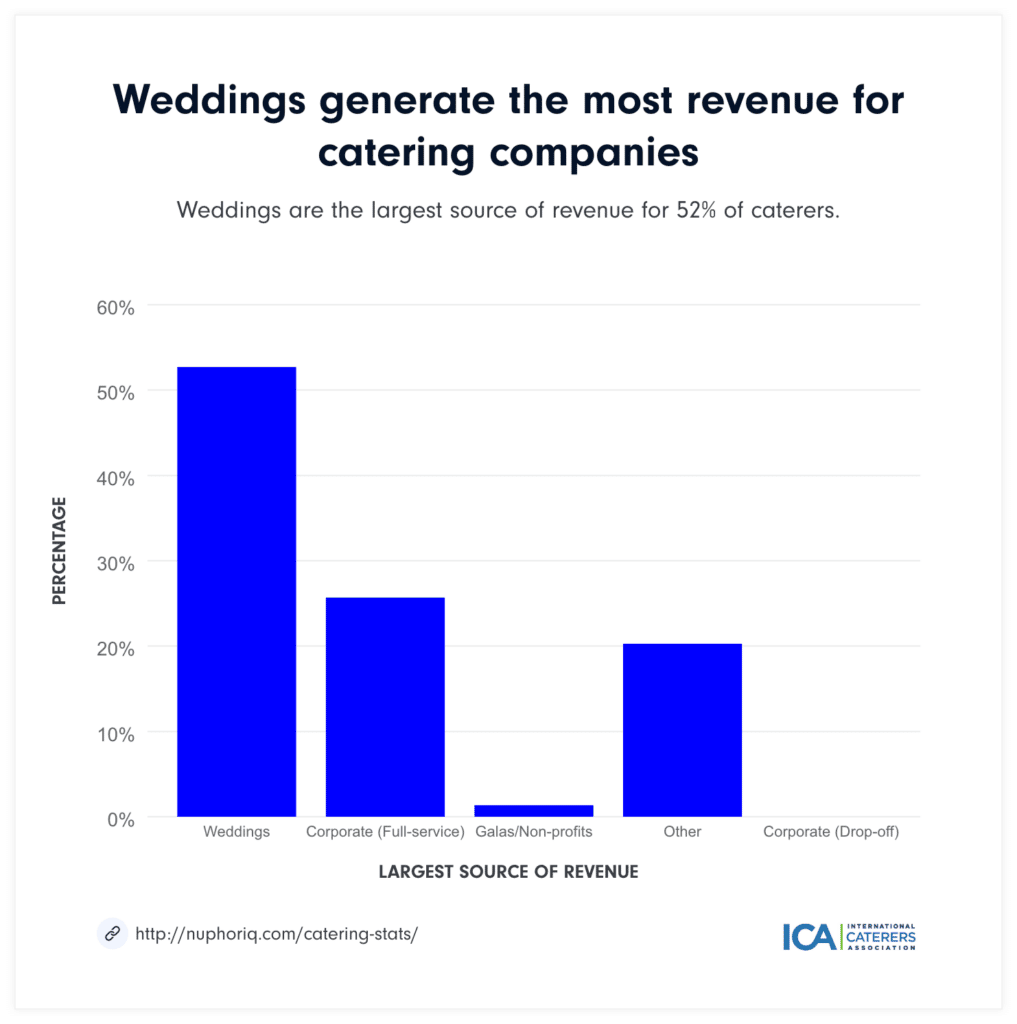 How much do catering businesses make?
Some caterers run small businesses with <$250k per year in annual revenue. However, there are plenty of large companies with revenues of $10m+.
However, most catering companies are right in the middle:
50% of catering companies make between $1m and $7.5m per year in annual sales.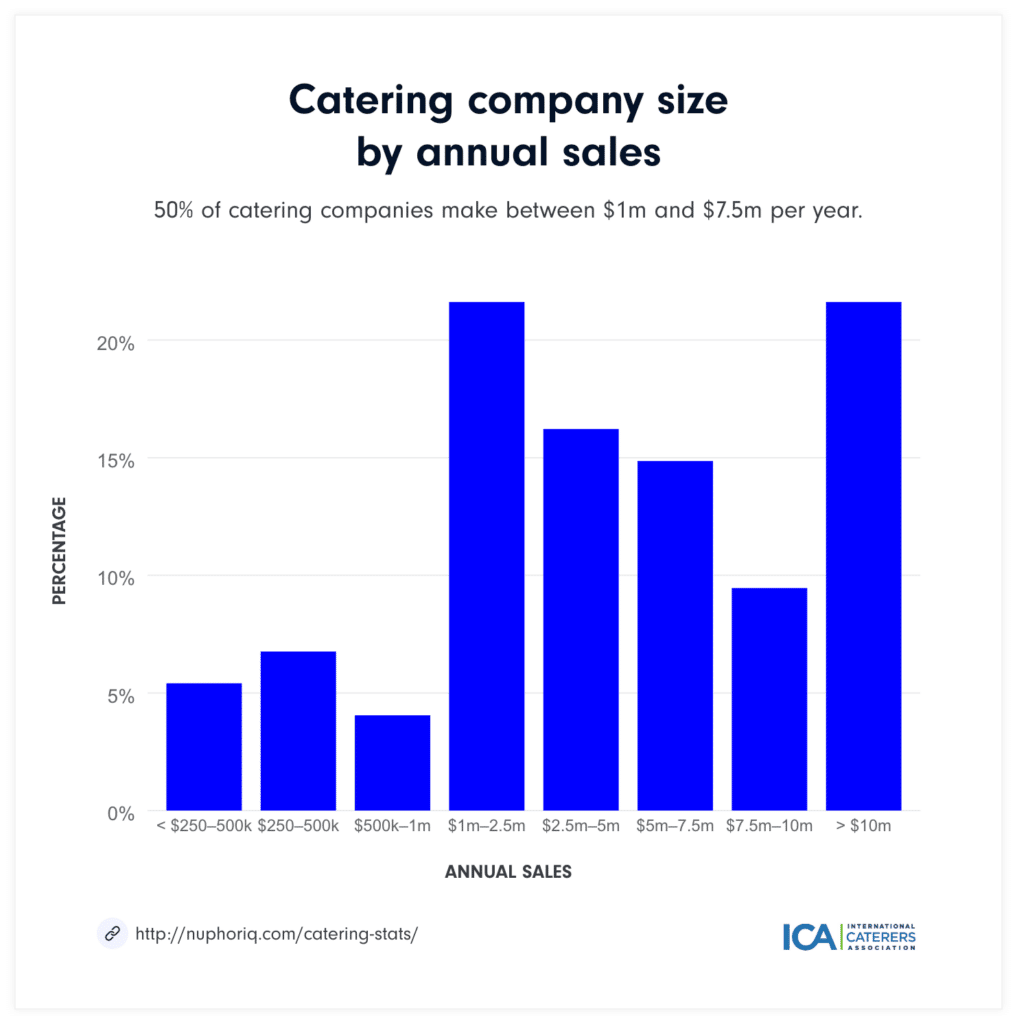 Average catering company size
We also wanted to know: how big is the average catering company in terms of staff?
Here's a breakdown of catering company size by number of employees.
Full-time
30% of catering companies have between 1–10 full-time staff.
80% of caterers have fewer than 50 full-time employees.
Part-time
29% of caterers have between 1–30 part-time staff.
33% of caterers have more than 100 part-time employees.
2023
2023 Industry Outlook
After a great 2022, we asked caterers to share predictions for 2023.
More good news!
78% of caterers predict that business will be up in 2023. 🎉
The ongoing return of corporate catering and weddings are expected to drive the growth.
Of course, the best growth is profitable growth.
So we also asked:
"What is your biggest tip for increasing profitability in 2023?"
Here's what business owners recommend:
Raise your prices. The simplest way to boost revenue 10%? Raise prices 10%. In 2022, nearly all caterers raised prices and many hit record sales. As one caterer reported "We were slower to do this and it hurt."
Answer emails fast. The faster you respond, the more likely you are to win the business.
Offer exclusive upgrades. Find upgrades that are in demand and simple to do.
Key takeaway: Raise prices if you haven't already.
Staffing is the biggest business challenge
No surprise, 80% of caterers say staffing is the biggest business challenge. And just 10% of caterers report being well-staffed moving into 2023. Hiring and retaining employees is harder than ever.
Where exactly are caterers understaffed?
50% of catering companies are understaffed in operations, which includes servers, planners and front of house management.
25% of caterers need more chefs and cooks in the culinary department.
| Most understaffed department | Percentage |
| --- | --- |
| Operations | 53% |
| Culinary | 25% |
| We're well staffed | 10% |
| Sales | 10% |
| Leadership | 2% |
What's more, caterers are struggling to find staff despite significant pay increases!
An overwhelming 98% of caterers increased pay in 2022.
And for the most part, the raises were significant: 60% of caterers increased wages by more than 11%.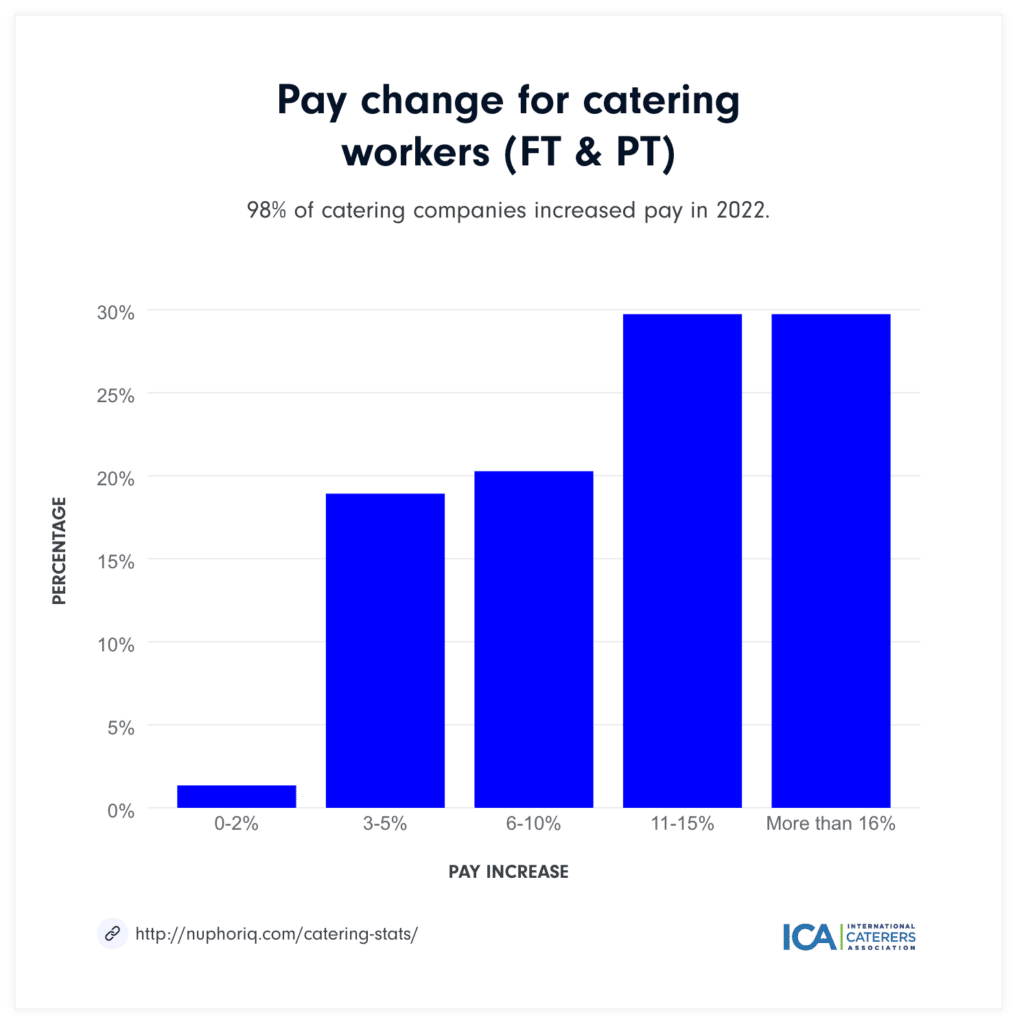 Most leads come from great service
We were also curious about where business growth is coming from. Specifically, we asked, "What has worked for you in finding new clients or generating leads?"
Our goal was to identify simple tips that you can copy today.
Here's what they said:
1) Word of mouth
No surprise here, but the real question is, what makes great word of mouth happen? Our respondents identified 3 keys to good word of mouth:
Respond quickly to leads. The data shows again and again, the quicker you respond to leads the more likely you are to win the business. Set up a process to respond to leads in under 5 minutes.
Communicate frequently and proactively. Short messages throughout the planning process build trust and position your company as a helpful resource—instead of an annoying vendor.
Train staff well and deliver a high service standard. Whether you're serving BBQ or a plated meal, professional etiquette makes a difference.
2) Relationships
For many caterers, venue and vendor relationships are the most significant source of new leads.
3) Digital marketing
Specifically, caterers mentioned reviews and SEO (showing up in Google) as key drivers of new leads. Reviews are the best place to start in digital marketing. The more reviews you get, the more likely you are to win business. What's more reviews will boost your SEO and bring more traffic to your website.
Key takeaway: Most catering companies are so event-focused that they skip marketing basics. If you can do two simple things in 2023: respond quickly to leads and ask for reviews. You will get more leads.
In addition to lead sources, we wanted to know—how far in advance are events booking?
For weddings, we wanted to see if anything had changed in the post-pandemic world.
Here's what the data shows: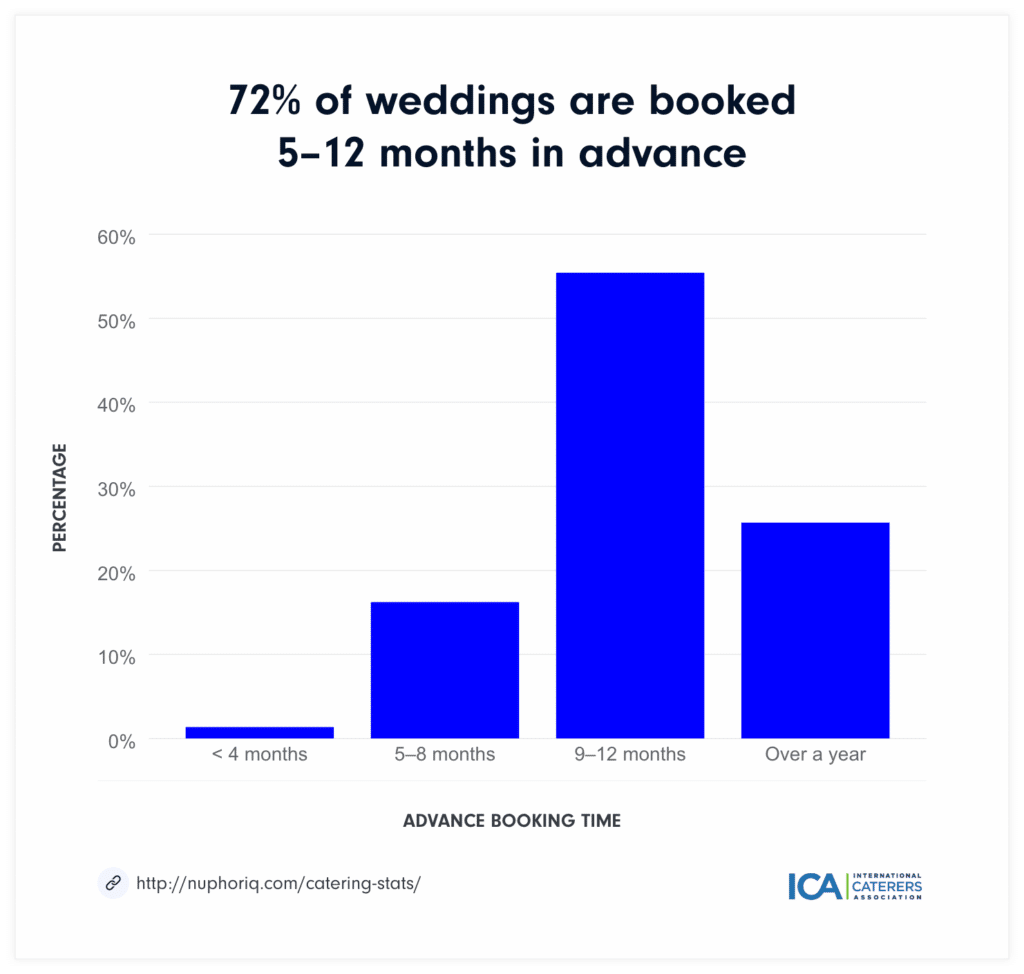 We found positive signs of a return to weddings as usual.
72% of weddings are booked between 5–12 months in advance. And 27% of weddings are booked over a year out.
Of course, we also had to understand the corporate events side of the business.
For corporate, 73% of events are booked less than 3 months in advance. And 25% of events are booked more than 3 months in advance.
Of course we'd like to see more future planning for corporate in 2023, but any business is good business.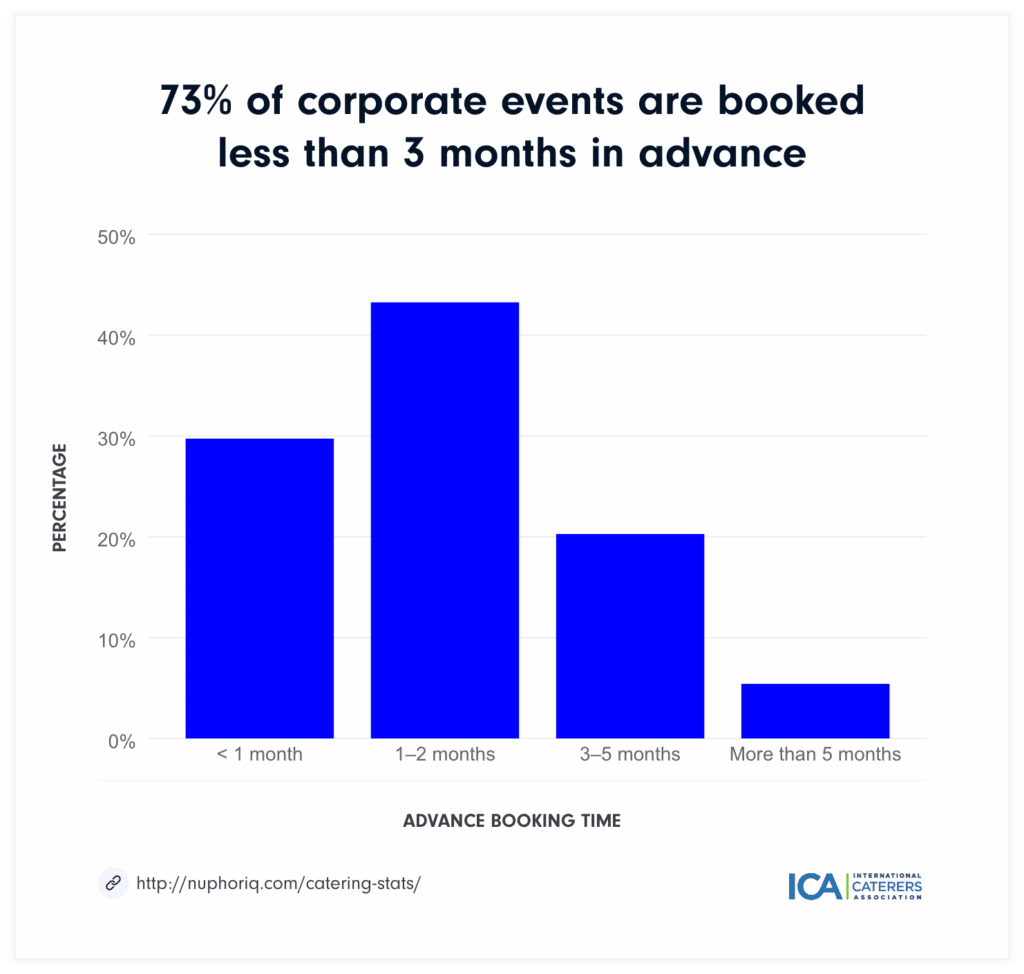 Most caterers can accommodate any diet
Demand for vegetarian and gluten-free catering is on the rise.
And the majority of caterers are right on trend!
Over 95% of caterers are happy to cook for vegan, vegetarian, gluten-free and dairy-free diets.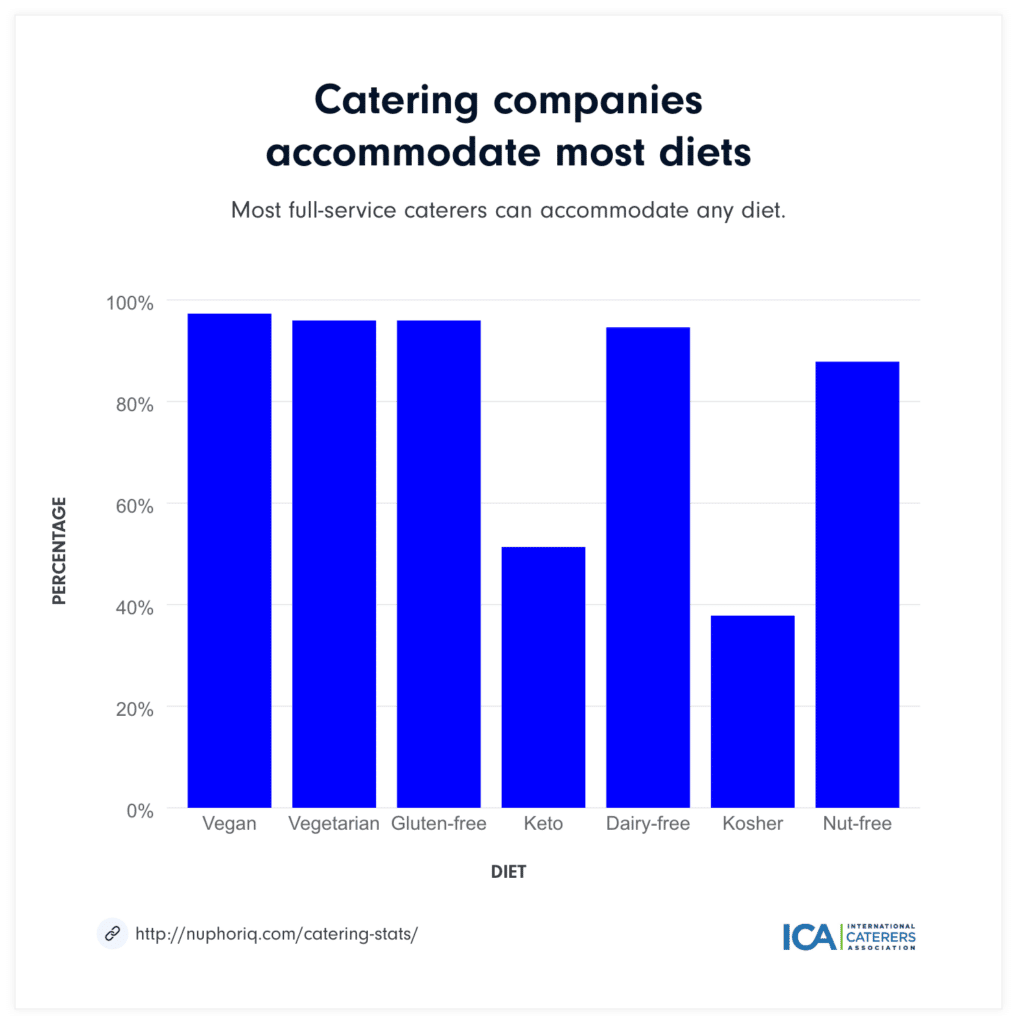 At industry events, we frequently hear that social media is a huge source of leads.
However, only 5% of caterers report social media as a primary source of leads.
That makes more sense to us! As managers of 100+ catering social media accounts, we see that social media is necessary to close leads but not typically how caterers are discovered.
Most caterers are discovered through word of mouth and digital marketing. After discovery, potential clients go to social media to make sure that you're a legit company. They want to see that what you claim to do on your website is really what you do.
Key takeaway: You need active social media accounts to close leads, but it's likely not what a customer will indicate in the "how did you find us" box.
Now, which social platforms are most important?
We found that Facebook and Instagram remain the dominant platforms.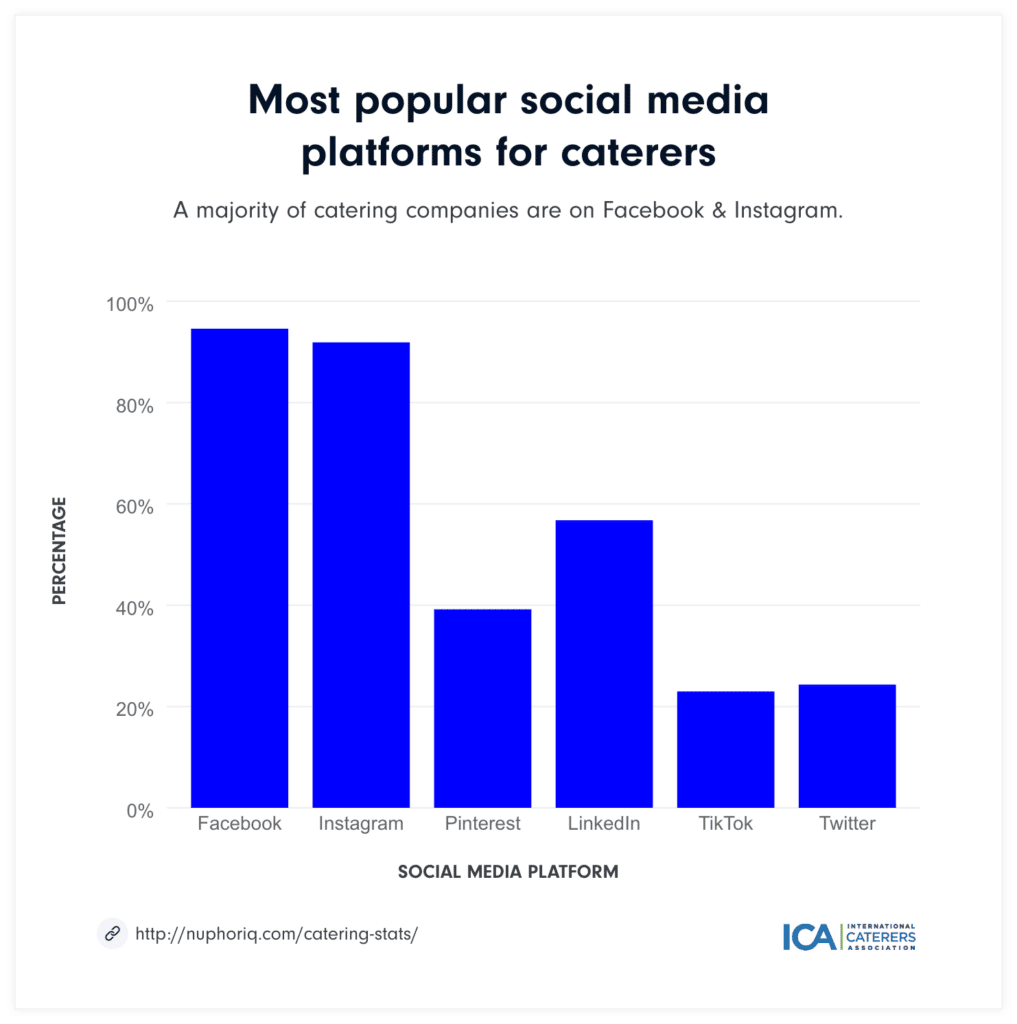 Do you see the newcomer?
22% of catering companies are now on TikTok.
That said, on any platform just having a profile isn't enough. You need to be actively posting to get the benefits (more leads) of social media.
So, we asked caterers how frequently they post.
60% of caterers post 2x/week or more on social media. And 39% post more than 3x/week. Good job.
Key takeaway: You get the most benefit from posting 2x/week or more.
The International Caterers Association has over 1200 member catering companies across the globe. ICA members regularly meet both in-person and online to get help on their biggest problems like staffing.
The value of membership speaks for itself! 75% of the ICA have been members for over four years.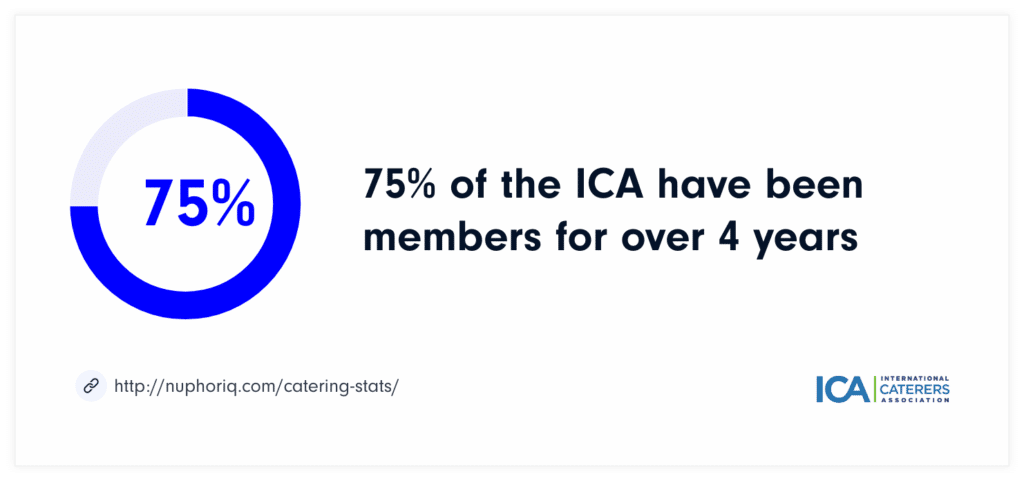 We asked members what they value most about the ICA. Here's what members have to say: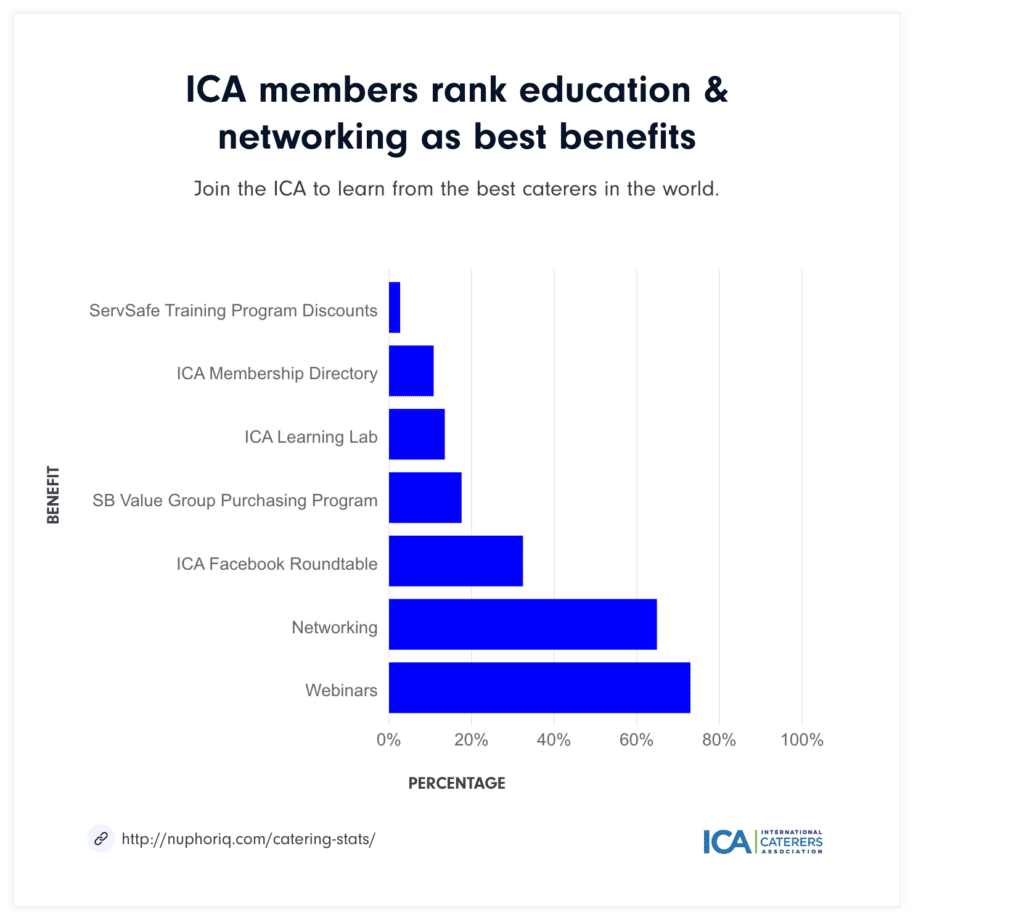 Caterers gain a lot of value from the ICA's webinars, networking and Facebook Roundtable.
Key takeaway: Join the ICA. It's worth it! Most members stay members for life, and the networking benefits are invaluable.
We (Nuphoriq) would like to thank the ICA for collecting this data and sharing it with the world.
And of course, the ICA members who responded to the survey deserve thanks from all of us!
Our Data & Authors
The International Caterers Association collects this data from it's 1200+ members each year.

Nuphoriq is a catering marketing agency and ICA partner.