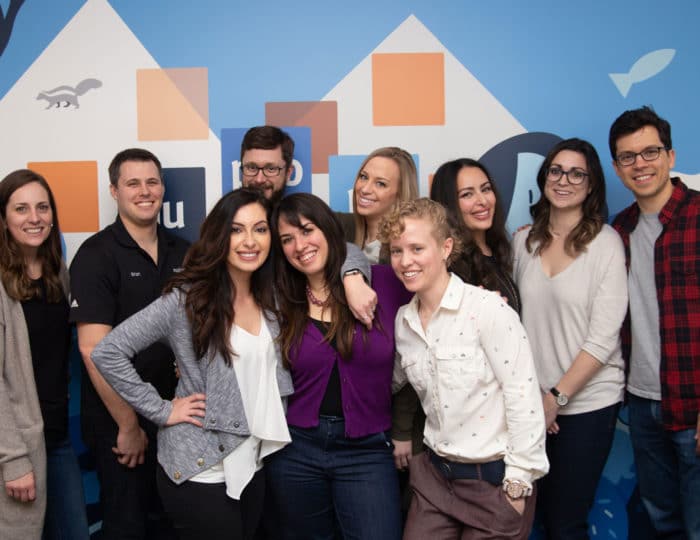 Hello, we're Nuphoriq!
If you're a catering company, we're here to help you grow. For nearly 10 years, we've worked alongside everyone from family businesses to Leading Caterers of America and partnered with organizations like the ICA, LCA and Catersource.
This is actually Jeanette and Karen, not a stock photo

Your go-to marketing experts

Our educational resources, newsletter and marketing services will help you take control of your business and feel confident about your marketing. We have a long list of references and can most likely connect you with a caterer (or venue) with an operation just like yours!

We love catering, really

Before founding Nuphoriq in 2011, Erin and Jamie were leaders at our sister company, Tasty Catering. A few of us still even work weekend events, especially when busy season hits. We have a deep respect, love and understanding of the events industry.

We hope to see YOU on our screen soon

Here when you need us

Reputable marketing companies are hard to come by. At Nuphoriq, we strive to be worthy of your trust and business. We believe you should have a personal relationship with the people you're working with. From regular meetings to site visits, we're here for you and happy to help.
Happy clients
Serving 30 states (and counting!)
Though we're based in Chicago, we've helped caterers and venues from California to Texas to Boston. We're not done yet!
"Working with the experienced team at Nuphoriq has been a wonderful and beneficial experience. They are consistently timely and organized with every project that they produce and their work has helped us to increase leads and book new clients. I would highly recommend Nuphoriq for anyone looking to grow their catering or venue business!"
Elizabeth O'Keefe
Meet our team
Our team is made of passionate leaders who trust each other to make our most meaningful impact every day. Things we like: food, murder mystery parties and making emojis.
Values-first culture
We are a values-driven company that strives to create an open environment where we can be the most authentic versions of ourselves. We know firsthand how much this matters in the work we do with our clients.
1

Choose your best self

2

Keep your word

3

Know your purpose

4

Choose courage over comfort

5

Add kindness to the world

6

Appreciate the journey

7

Think big
Passionate about our community
We also love to give back to our community. Our designer, Emily, runs a yearly Parkinson's fundraiser called Pancakes for Parkinson's. Our co-founder, Jamie, runs the social mission company That's Caring. And as a team, we frequently participate in local charity events.