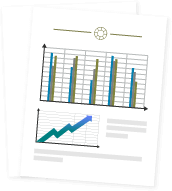 Catering Trends Monthly
Catering Trends: November 2020
Hi everyone,
Enjoy Catering Trends? Share with your coworkers! They can sign up right here. Now let's jump in to the best catering industry articles from this month.
(-) Over 75% of caterers report a 70–90% decrease in business vs. last year.
(+) 52% of caterers expect a quick recovery in 2022–23. 
Or, how to become a "top of mind" caterer.
Interesting trend: Visual cleanliness cues. It's not only what you're doing to be safe—it's also what customers can see. Obvious trend: Everyone likes pizza.
Create all your posts in one day—using ideas from your content pillars—and then automate posting with social media software (3 hours). Sign in for 10 minutes every day and respond to comments, like posts, check hashtags and build relationships.
Not catering-specific, but here are three fun stories about how other entrepreneurs got ahead in tough times.