Websites
Catering Website Before and Afters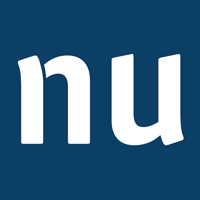 by Nuphoriq
When caterers come to us for a new website, they often have very similar problems. Their current site is outdated, it isn't mobile–responsive, or it just simply isn't them. Some caterers can't update their own websites, and some hear from their customers that their sites are impossible to navigate.
Whatever the issues, creating a new website ensures that these problems are avoided and provides caterers with the right platform to connect with clients old and new. Your catering website should be an extension of who you are as a brand, as a business and as people.
Some features of a new website that solve common issues include:
Story branding, creating a guide that explores and describes your company's unique identity
Content marketing, involving blogs like this one
Logo and brand design
Mobile optimization, making a mobile and responsive version of your website
Search engine optimization (SEO), causing your company to appear higher in Google search results
These solutions have been integrated into the websites below, creating sites specifically for the catering business and their clients. Browse the before and after images and read the companies' unique challenges to inspire a possible catering website redesign of your own.
1949 Catering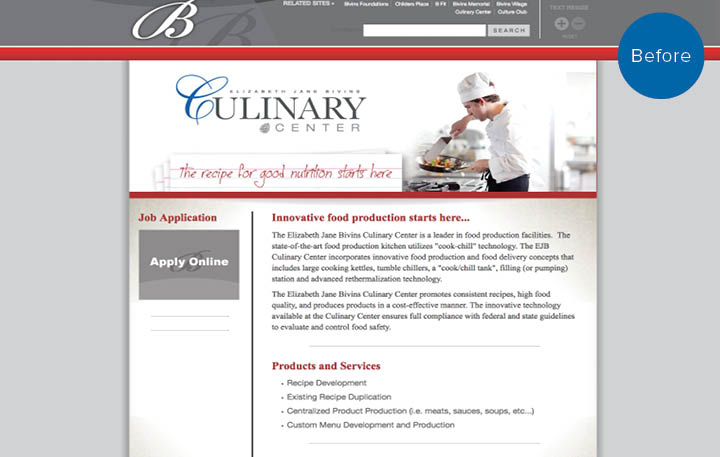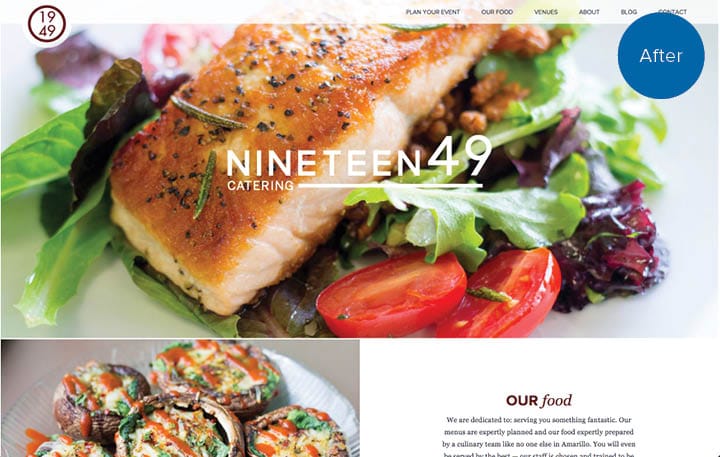 Challenge: Get out of narrow market
Formerly known as the Elizabeth J. Bivins Culinary Center, their brand had gotten trapped in a narrow category—servicing eldercare facilities—and they wanted a new brand to represent their true capabilities.
View Live Site
Above & Beyond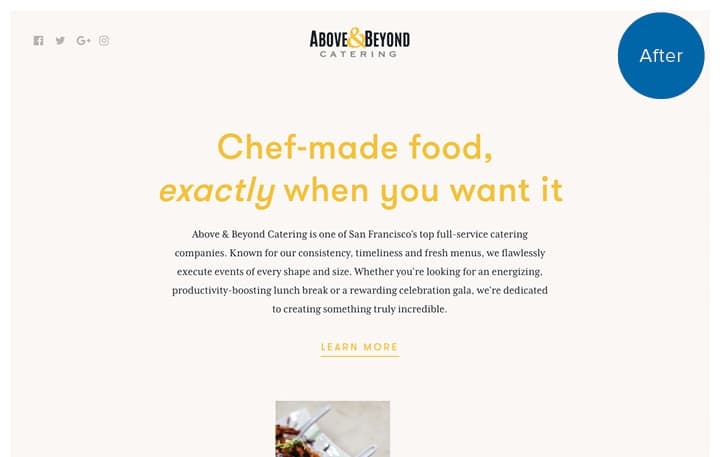 Challenge: Create a mobile-friendly website that competes with SF tech hub
The Above & Beyond website was designed to compete with and compare to apps that consumers in the San Francisco area were accustomed to using. The desktop version translates the mobile experience into a sleek, modern site.
BG Events & Catering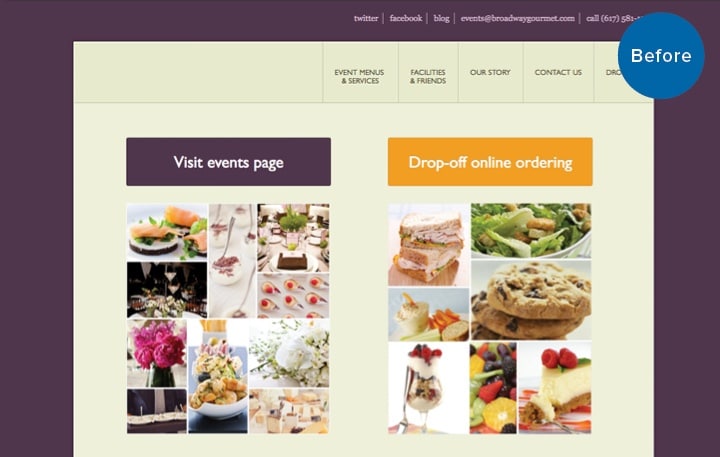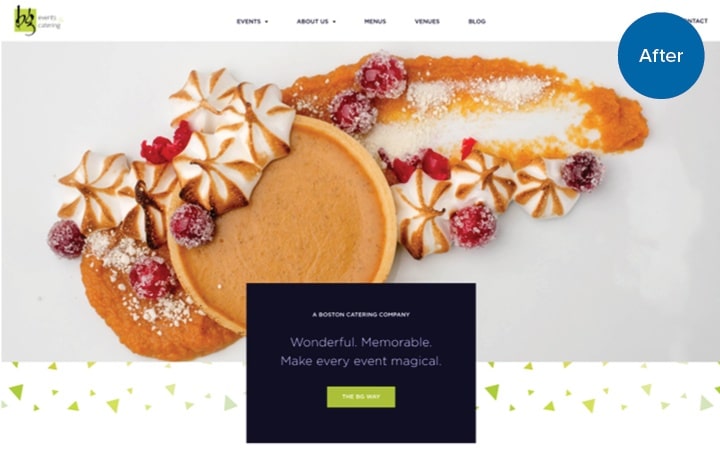 Challenge: Create full-service caterer identity
BG began catering from the popular Harvard grocery store as Broadway Gourmet Marketplace and wanted to create a brand and website that would set them up for success as a full-service, upscale caterer.
Blue Ridge Catering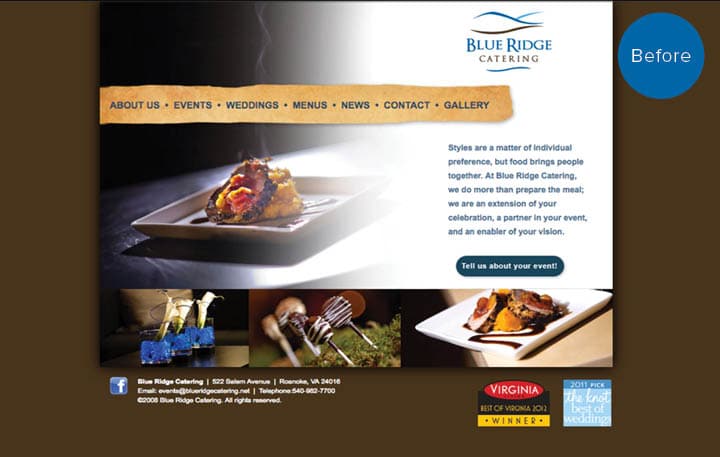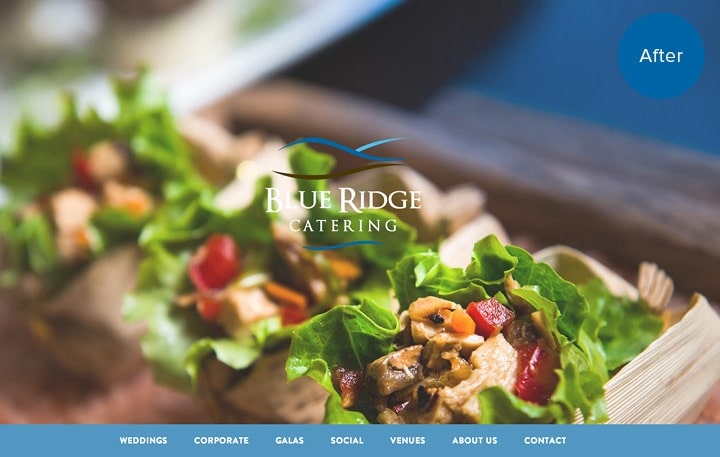 Challenge: Build website to keep up with business
As Blue Ridge grew, their website could no longer keep up with the level of events they were hosting, and they needed a better platform to share photos and exclusive venues.
Bradford Catered Events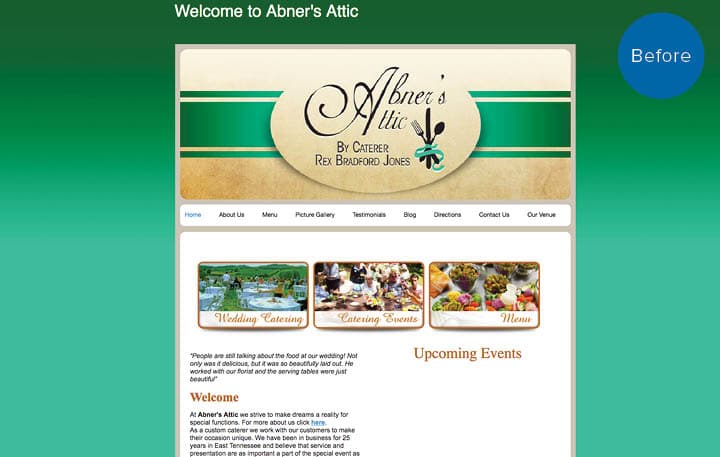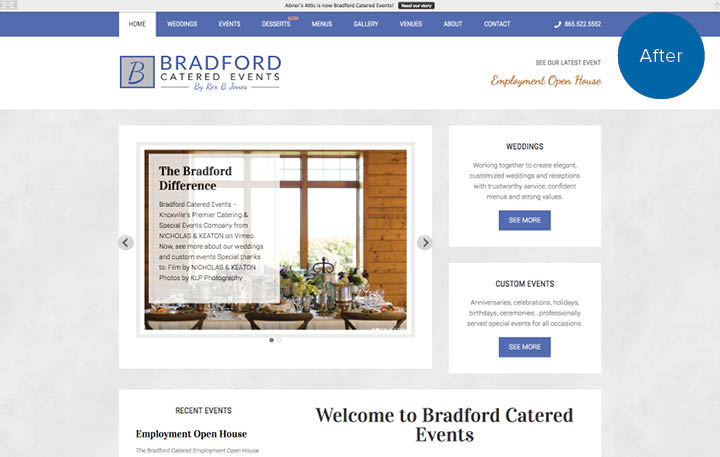 Challenge: Establish new brand for next generation
Rex of Rex Bradford Jones Caterer was moving out of the spotlight, and there were concerns that once the namesake left the company, sales would decline. They needed a new, separate identity that clients could still trust.
Butler's Pantry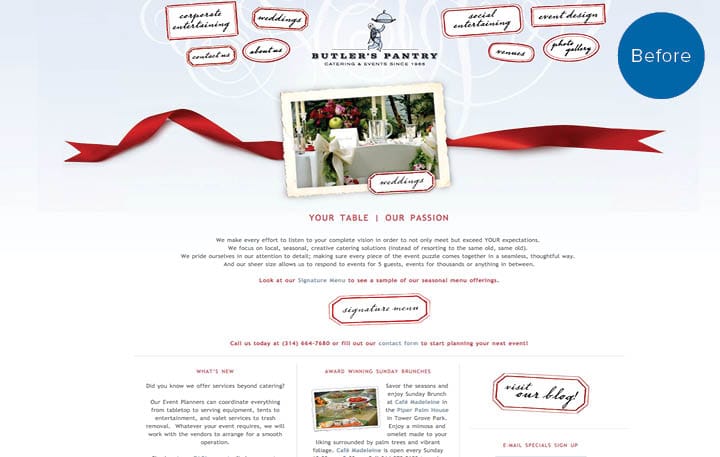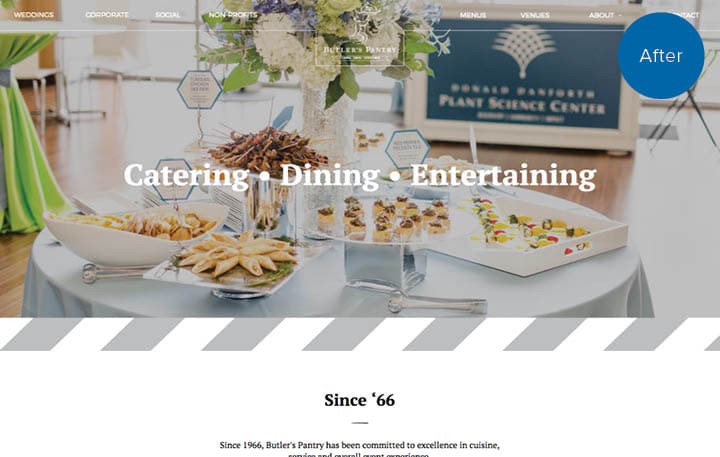 Challenge: Create one website for a vast array of catering capabilities
After 50 years, what began as one small business had grown to a large catering company servicing a variety of different markets. Butler's Pantry needed a website that would integrate all of their service offerings and accommodate several types of clients.
Catered Creations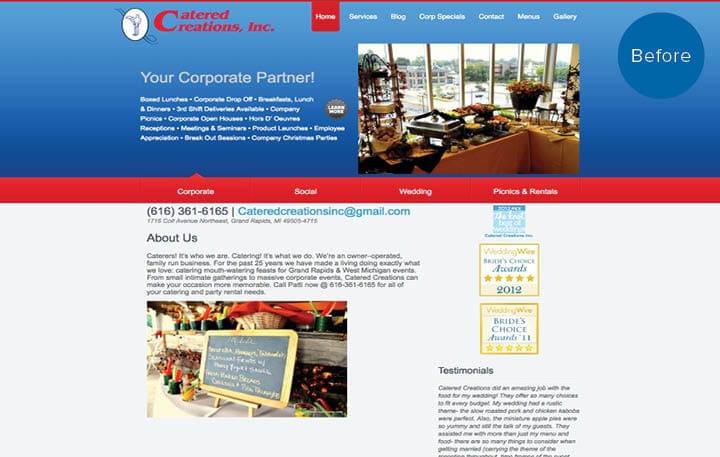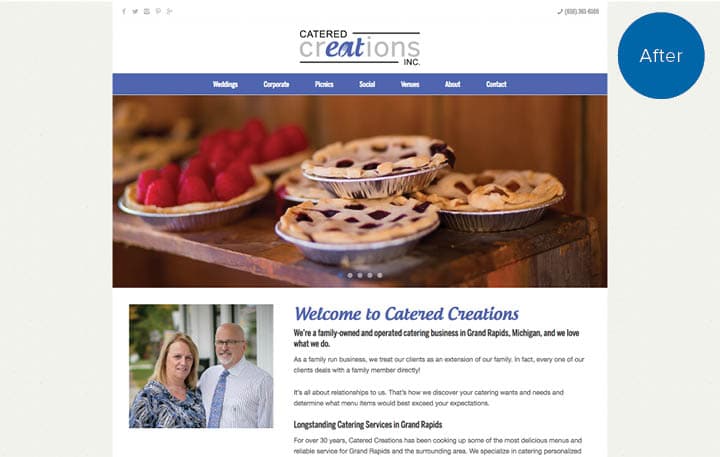 Challenge: Focus website on corporate catering
Catered Creations needed a website that was targeted toward their main area of business—corporate catering—while still providing information for weddings and other events.
J. Scott Catering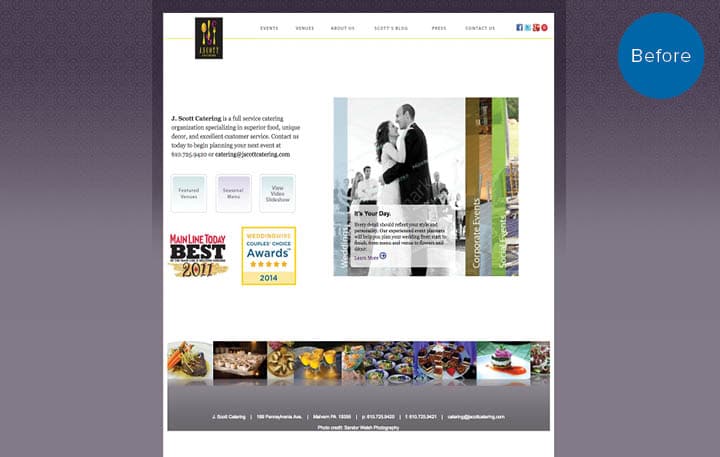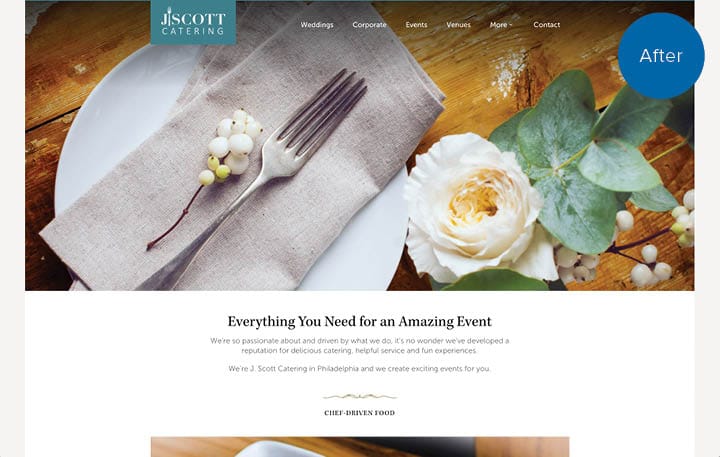 Challenge: Represent high-end service
J. Scott Catering had elevated their cuisine and service to something truly exceptional, and they needed to overhaul their website to match this quality.
Funky's Catering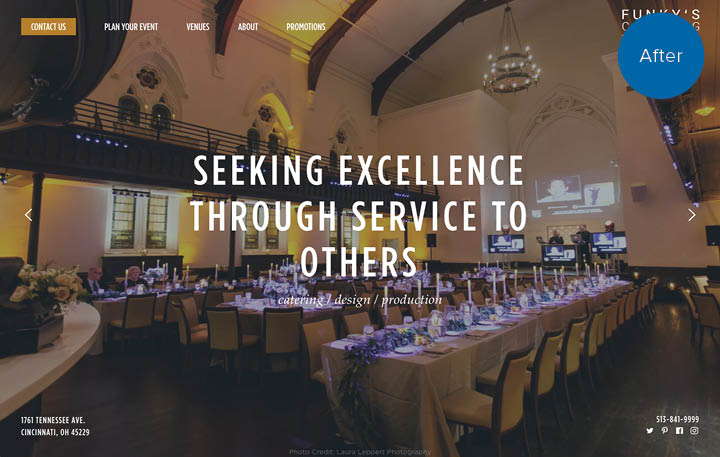 Challenge: Create a brand and website that reflect the personality and full range of services offered and venues managed by the Funky's Catering team
Funky's thrives on creating a unique one-on-one experience for every guest, so translating this identity, which includes an expansive range of services and venues, was essential to convey in the new site.
Happy Day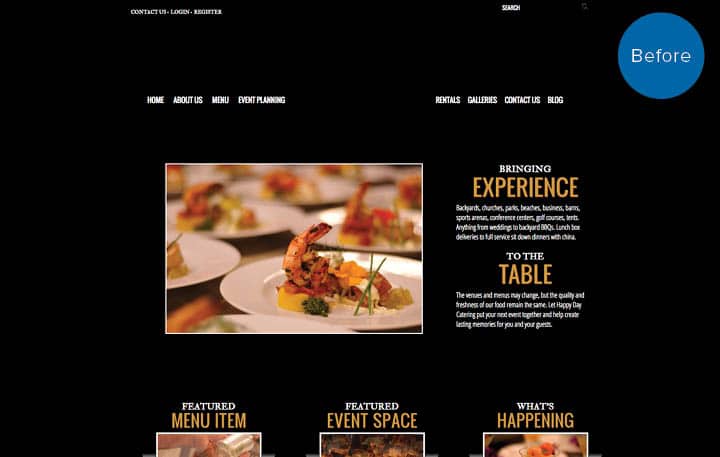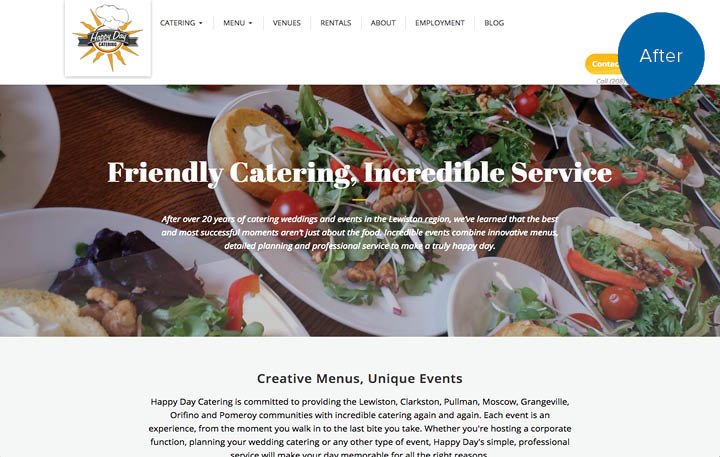 Challenge: Illustrate a well-known catering brand's individuality
Happy Day, a catering company that's part of a large family of companies, wanted to distinguish itself as a trend-setter in its market, yet remain approachable. With a nod to their heritage, the catering team wanted to share their own story after 20 years of incredible service. The website ties both pieces together.
Jacques Catering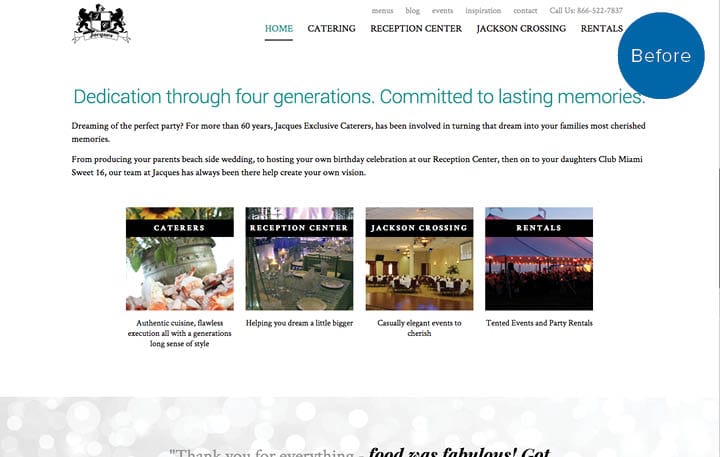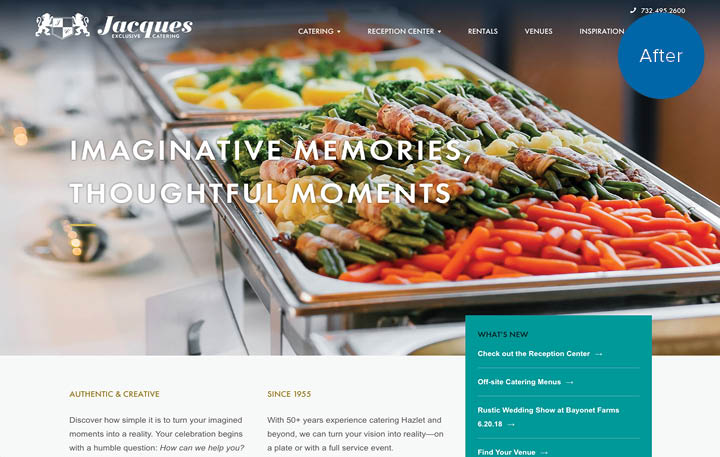 Challenge: Articulate brand's identity and present robust service offerings
Over the years, Jacques Catering had acquired a diverse array of exclusive venues throughout the New Jersey and Staten Island areas and launched a rental company for special events, weddings and services. The new website umbrellas all brands, properly showcasing and cross-selling them.
Picnic People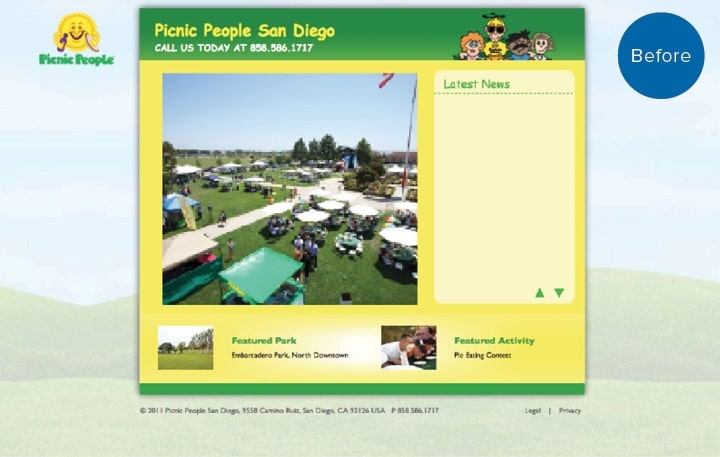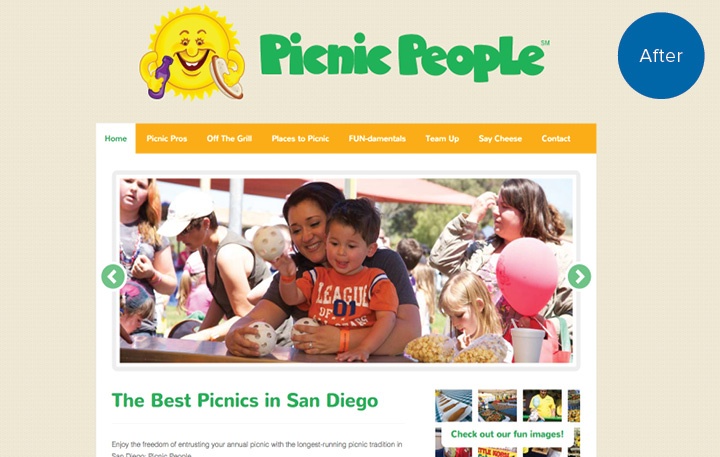 Challenge: Celebrate 30 years with fun identity
Picnic People had been catering San Diego picnics for 30 years, so a new website was the perfect way to recapture the "fun in the sun" identity that their cuisine and service embodied.
Purple Onion Catering Co.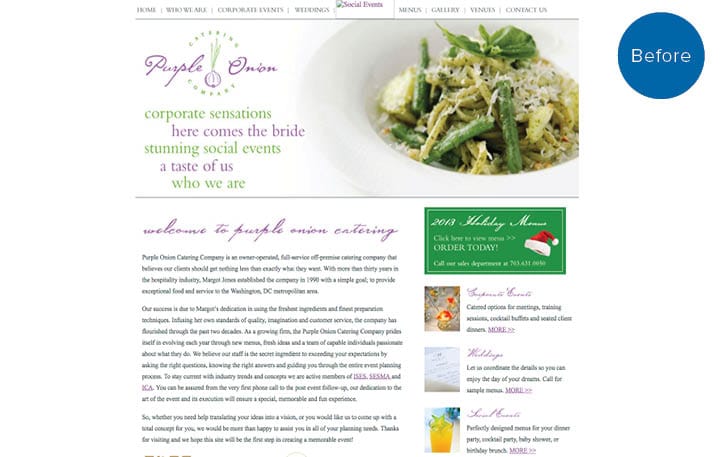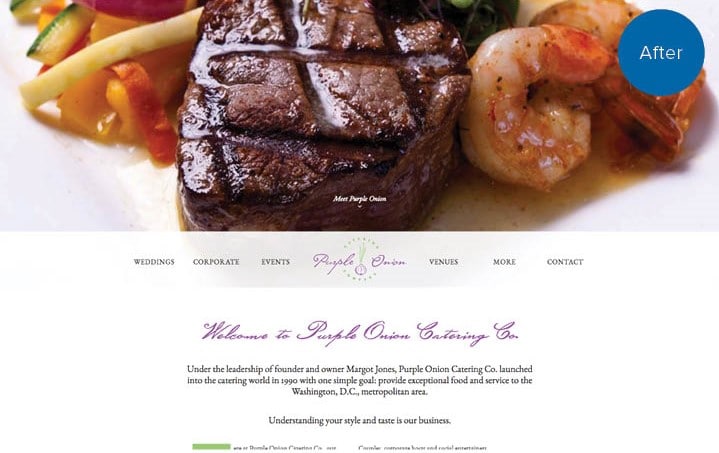 Challenge: Integrate planning software on website
As their sales staff worked with an event planning software for every event, it was absolutely key that their new website incorporated it in the contact form.
Queen of Hearts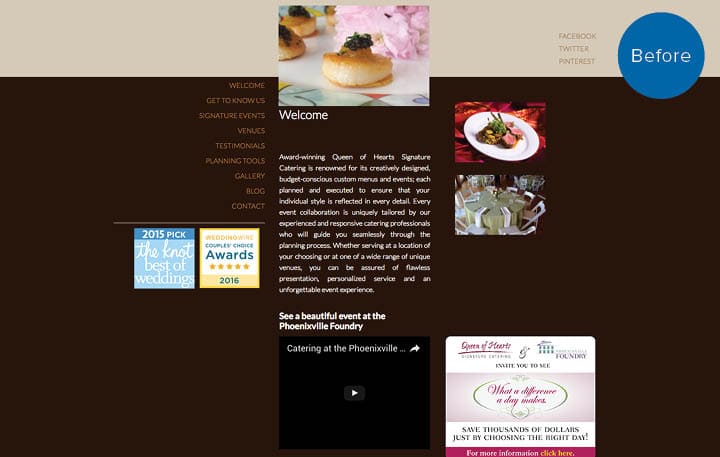 Challenge: Rejuvenate a brand and create a website that walks users through catering
After an exciting brand revamp, Queen of Hearts envisioned a website with a friendly, welcoming presence. Since weddings are one of Queen's biggest markets, it was important that first-time buyers feel at ease when maneuvering through the catering process and caterer's capabilities. The website highlights the step-by-step process.
Tasty Catering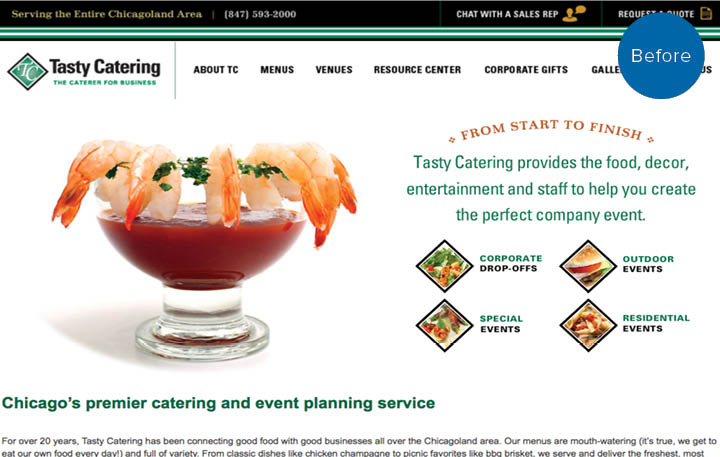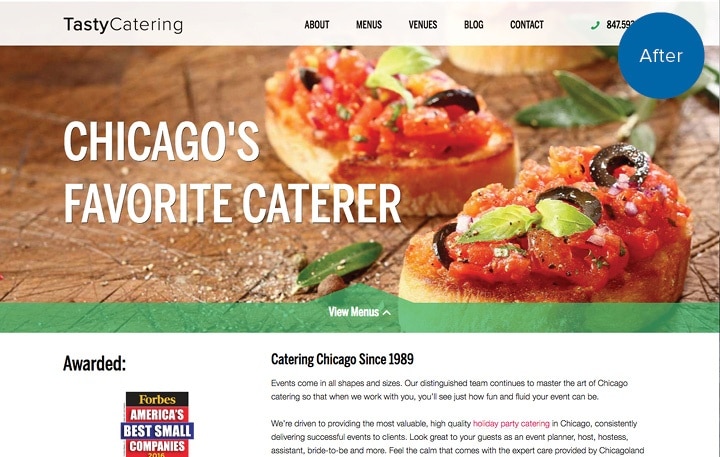 Challenge: Organize a simple but informative website
After years of growth, Tasty Catering's website had countless pages and posts, causing it to be an organizational mess that clients couldn't use. Their new site needed to be condensed, informative and easy for clients to navigate.
Zilli Hospitality Group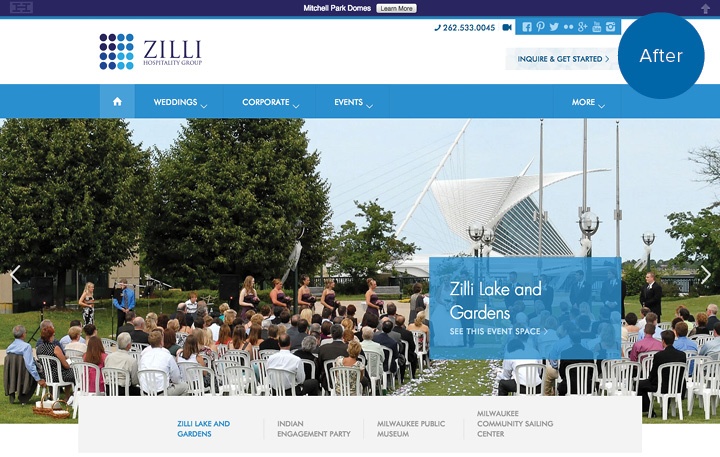 Challenge: Showcase venues to their fullest potential
Much of Zilli's business is focused on their venue partnerships, so their new website needed to highlight exclusive venues and really exhibit their capabilities with a venue finder.
Bonus: Venue Before and Afters
Landerhaven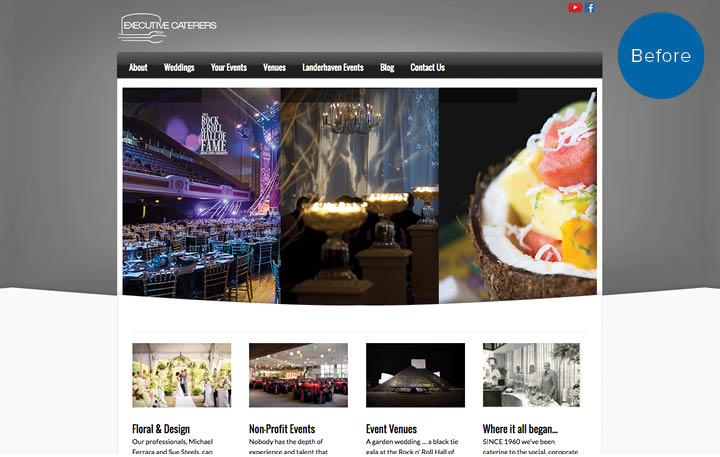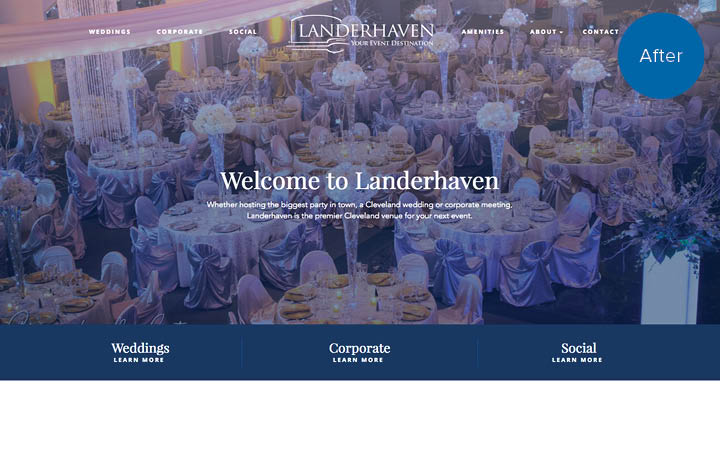 Challenge: Craft a standalone website to showcase the beauty and versatility of Landerhaven
The Landerhaven venue was previously showcased on the Executive Caterers' website. By providing Landerhaven its standalone website, perspective buyers could more easily access its spaces, amenities, pricing and photos—emphasizing the unique, all-in-one experience of a location that's "never the same place twice."
View Live Site
Springton Manor Farm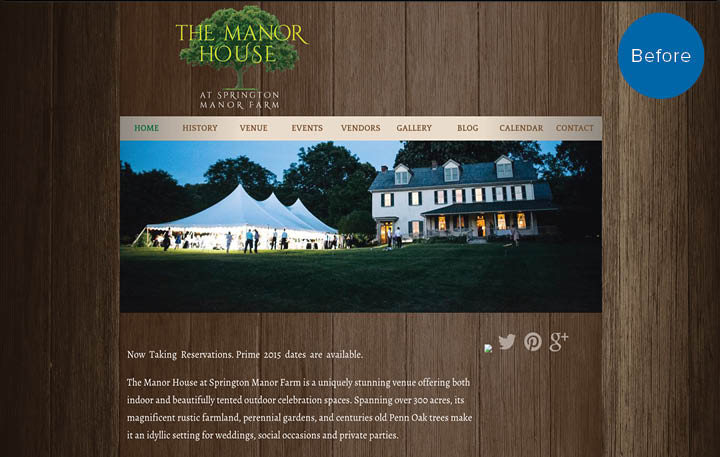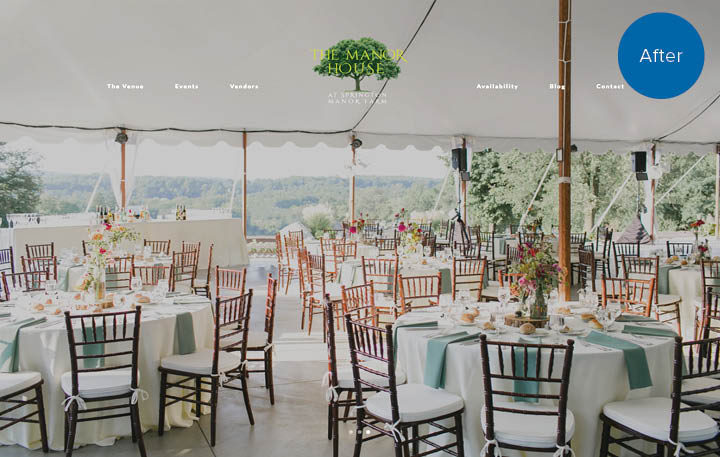 Challenge: Foster a website that's hard to walk away from and generates leads
The website invites visitors to picture themselves taking part in the natural beauty of Springton Manor Farm. Large photos, real wedding stories, a blog, availability, calendar and even a drone video help to qualify clients.
Sundara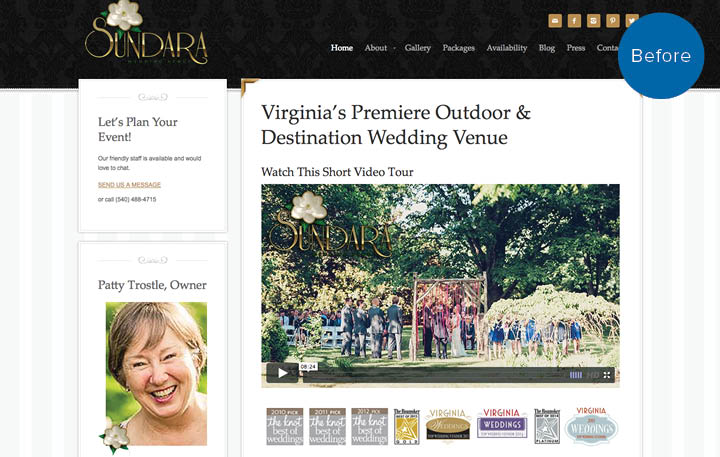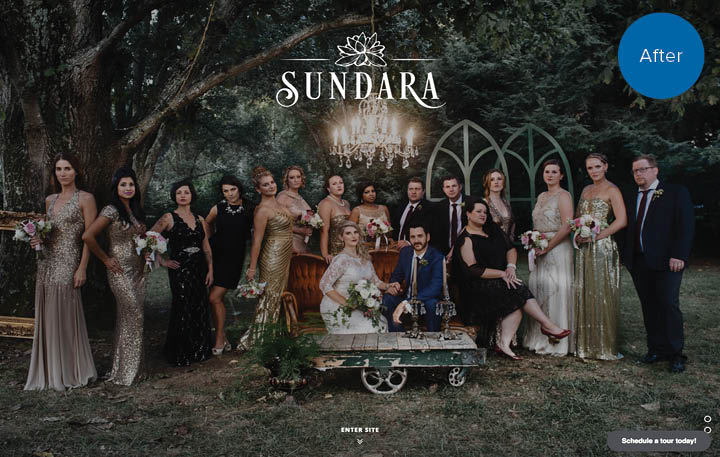 Challenge: Reenergize an outdated site to reflect modern times and youthful markets and prospects
Sundara's site was transformed into a breezy, comprehensive web experience where users can scroll through a clean, open page of pictures, reviews and what they need to know about wedding pricing.
If any of these challenges seem familiar, we would be more than happy to answer questions. You can call us at 847-709-2799 or
contact us
. You can also view more of our work
here
or read about
website ROI
, getting
qualified leads
from websites and creating a
contact form
.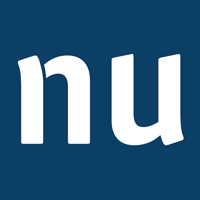 Meet Nuphoriq
Nuphoriq is a marketing company for caterers and event venues. And we're fun to work with! We work alongside everyone from family businesses to the Leading Caterers of America and partner with organizations like the ICA, LCA and Catersource.