Culture
It's Your Company's Anniversary, Now What?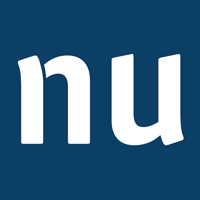 by Nuphoriq
Anniversaries are a big deal. Especially in an industry full of people who give so much of themselves and spend years creating different ways to bring families, businesses and even entire communities together.
In the catering world, many of us are trying our best to make it through a full week, let alone an entire year. In getting to know caterers, though, we've heard some incredible stories about perseverance. The days spent catering out of a house basement. On the third floor of a building with a broken elevator. From three employees to 300. From one van to an entire fleet. Working no less than 14 hours. In rain and snow. Experiencing everything from a flat tire to a staff shortage.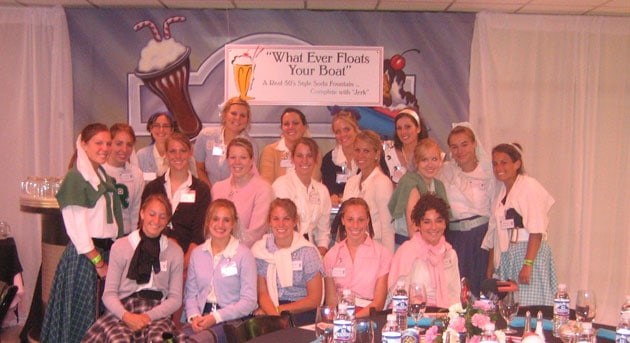 For those who work in catering, time moves fast. Whether you're coming up on 10 or 50 years, it's important to pause for a moment to look back and reflect—and maybe even celebrate. You help your clients celebrate anniversaries and countless other moments. Why not show yourself and your team some love?
Here are some company anniversary branding ideas you might enjoy:
Creating an anniversary campaign
Anniversaries create the ultimate opportunity to make a statement about who you are now or even how you want to reinvent yourself. As is often seen with companies who are venturing on to their second or third generation, an anniversary can bring with it new leaders, technology and ideas for the future. What are the ways in which you're acclimating people to this change and sharing this newness?
Creating a marketing campaign around a new energy can be pretty exciting for everyone involved—leadership to employees. And it can attract some attention from potential new hires or clients, showcasing your decade(s) of experience as well as innovative methods. Company anniversaries are some of our favorite campaigns. It's this kind of work that allows us to really get to know our clients at a deeper level.
Before you bust out the old photo albums, it's important to determine the pieces for your anniversary and ask the essential questions, like:
Are you interested in creating a celebration for your staff, partners and clients?
Do you envision a timeline of events that can be shared digitally?
Are you thinking about a new logo or tagline?
Do you have a new leader; if so, what do we need to know about them?
Are you thinking about a new website or product launch?
How do you want your anniversary story to be presented? And in what order?
Determining these steps and the duration of each of them is necessary before diving into the logistics of an entire campaign.
New logo, new tagline, new you
Companies have been reinventing themselves with logos and taglines for years. That's because they're accessible messages to share. They let everyone know you're experienced and confident in how far you've come.
For Tasty Catering's 30th anniversary, we envisioned a logo that incorporated the brand's signature circles that are used throughout their menus and monthly specials. Our graphic designer minimized the circles and experimented with the brand's full color palette to create the effect of confetti or fireworks.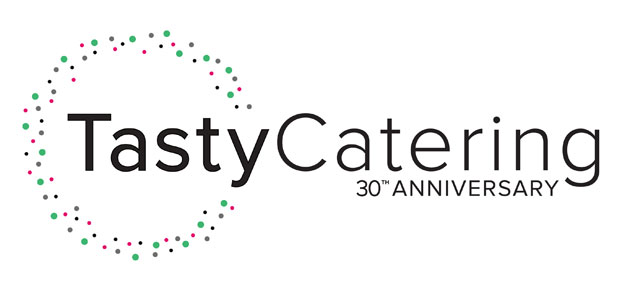 After 30 years of Just Do It, Nike rang in their anniversary with the bold saying "Believe in something. Even if it means sacrificing everything." Not everyone can make this kind of anniversary statement, but the sentiment of your new image and language around it can be used to showcase what you stand for after all these years and propel your brand into the future.
You don't always have to start from scratch to make an impact. A logo or tagline can take what you already have and shake it up. For its 25th anniversary, the Disney Store's tagline said "Making Magic since 1987." When Chevrolet hit its century birthday, it shared a new logo and tagline that read, "100 years of Chevrolet."
Sensational Host's anniversary tagline, "Brighter Visions. Better Events. Since 1978" was an exciting nod to their recent 40th milestone. The company began as a small deli and has grown to be one of the most successful third-generation family-owned businesses in South Jersey.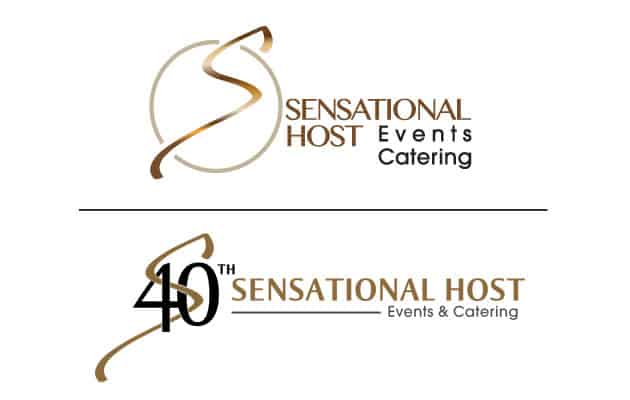 Blogs, landing pages and infographics
Use your website as a platform to honor this important moment in time for your company. A blog and/or landing page are great ways to share your reflections, future ambitions and any big news or plans around your anniversary. And they can help generate excitement. This is your chance to share your emotions and passion with the people who have supported your over the years.
For Tasty Catering's 30th anniversary, founder Tom Walter shared heartfelt words of gratitude in a blog that was formatted into a thank you letter to clients, employees and vendor partners. For its 30th anniversary, Sensational Host shared a blog post full of fun throwbacks. Zilli Hospitality Group shared not just one but multiple blog posts depicting their employees' favorite moments, stats after 50 years of catering and future goals.
We also helped Tasty create a landing page with a timeline full of its most pivotal moments over the last 30 years, press information and awards. A landing page is the perfect excuse to bring out all pictures and awards that may have collected dust on an office shelf by now. More importantly, a landing page can serve as a digital time capsule that allows everyone to easily access and share these memories.
Sometimes clients are looking for a "less is more" approach to illustrate their anniversary. Infographics are especially useful for presenting stats and snippets of historical information. Check out this infographic Picnic People envisioned for its 30th anniversary.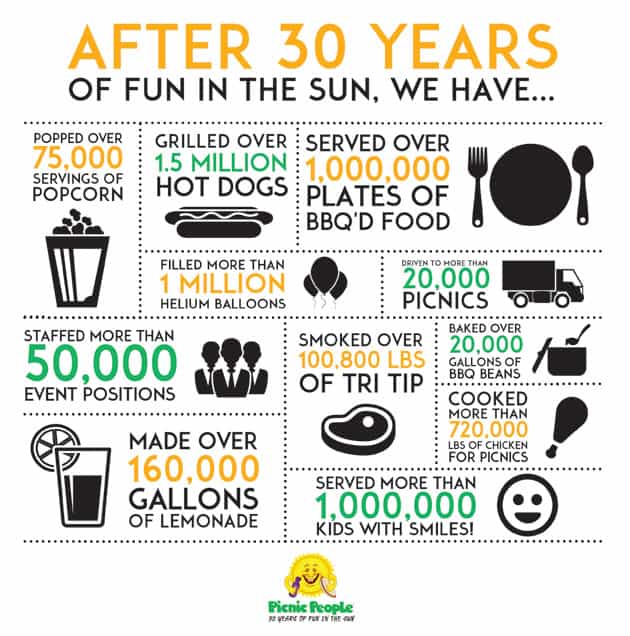 There is an endless number of ways you could spin your anniversary, but whatever media you decide to use, it's essential to share it on all platforms, from social to your newsletter and email blasts.
Social media countdown
Speaking of social media, did you know you can create a countdown leading up to the day of your anniversary, anniversary celebration or rebrand? If your company is looking at its anniversary as an opportunity to reinvent itself, social media is a good way to break it up in post-size bits. You can use platforms like Instagram and Facebook to share sneak peeks of what's to come.
Our client Joy Wallace was looking for a way to reinvigorate their established brand. They envisioned a social campaign that would make clients feel connected to their transformation. Our social media director launched a 30-day reinvention campaign on Instagram aimed at "redefining Joy," how their clients choose to celebrate and showing their team's personality. Posts played with new brand colors, terminology, throwbacks and inspiring quotes. Every one of the 30 posts was designed to fit Joy Wallace's brand transformation and the message they want to share.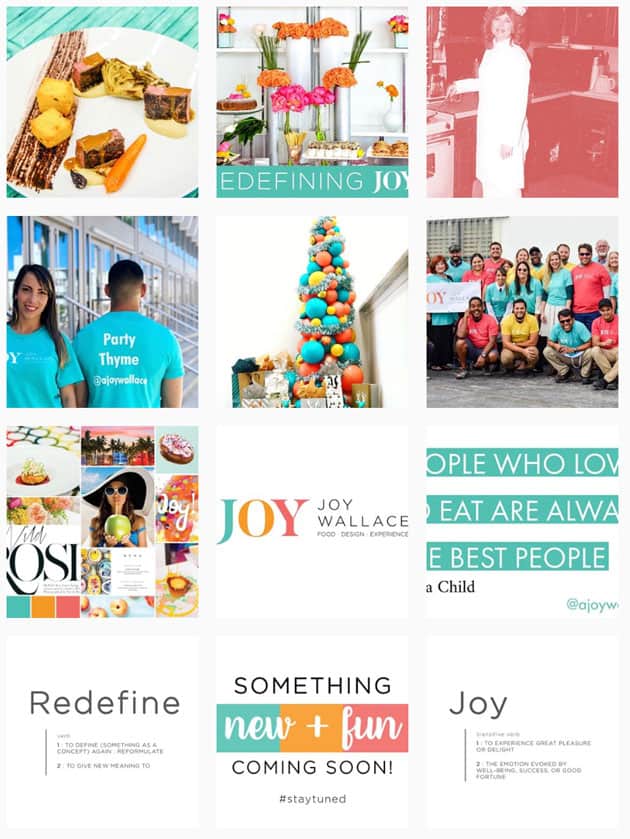 Time to party
Not every anniversary requires a party. As we all well know from the work we do for our clients' events, anniversary parties require planning, funding and creativity. But if it's something you've never done before and you think it would be a great way to celebrate your company's success, build team camaraderie, thank customers or redefine your brand, then why not?
If you're strongly considering a party, here are some questions you should ask: Is there a theme? Who are you inviting? What do the invitations look like? What's on the menu? Is there any flair? What fun activities will be available?
These are some of the questions the Joy Wallace and Tasty Catering teams asked before their 30th anniversary parties.
Joy Wallace continues to ask the question: what are the new ways in which our clients celebrate joy? This thought process went into the planning of their celebration—which features rooms full of innovative ways to dine and have fun. Tasty Catering chose an '80s throwback theme for their anniversary celebration and are rolling with the tagline "Totally Tasty." The design and language around this theme have been incorporated into all anniversary materials.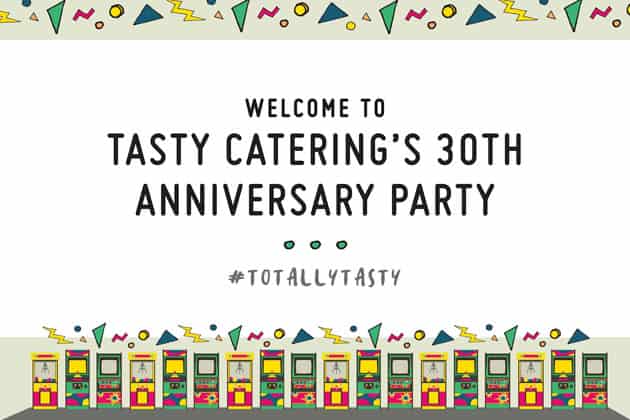 When's your company's next big anniversary? Do you have any plans? We'd love to help you celebrate and create the message you want to share with everyone. Tell us all about how far you've come!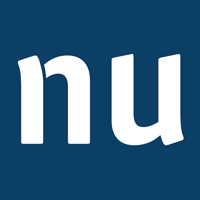 Meet Nuphoriq
Nuphoriq is a marketing company for caterers and event venues. And we're fun to work with! We work alongside everyone from family businesses to the Leading Caterers of America and partner with organizations like the ICA, LCA and Catersource.