Marketing
Language Is Everything in the Age of Rapid-Fire Information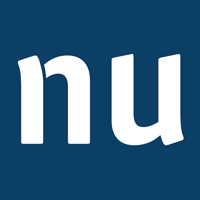 by Nuphoriq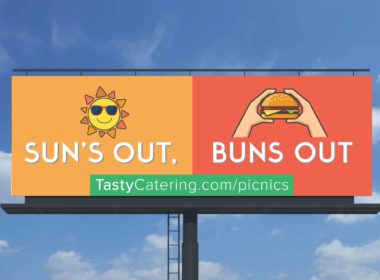 We all want to know things and "look" smart in front of the people we serve. As marketing professionals, it's important that we are knowledgeable about everything from metrics to branding and deeply understanding our clients' needs. And it makes a difference when we're tuned in to the evolution of technology. All of this helps our clients connect with people and see quantifiable results.
As a catering professional, you also strive to maintain an air of authority and knowledge. Especially because you're responsible for making other people look good in front of their professional groups and peers or the people they love and care about.
Speak outside the box
With many of our clients, we see a tireless need to always have the right solution, to have a set and polished image. Yet, at the same time, the same clients also tell us that transparency, up-frontness and the reliability factor are what truly connect them to their clients and build the trust between them.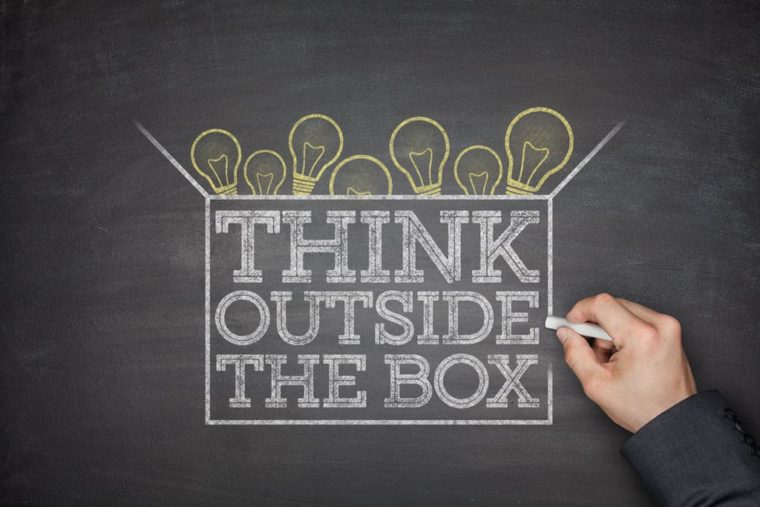 My question is most certainly leading, but here it is: what is the harm in adding a smidgen of your actual personality to your brand, thus making it that much more recognizable (and not like your competitors')?
Building an image around trust is still very much "in"
Trust in an age of loud, fast and scattered information—or even blatant misinformation—continues to outlive what's currently trending. That's why it's important to sit back and ask harder questions like: "Who am I?" "Why is this company important to me?" "Who do I want to help?" "What message am I trying to convey?" Answering these questions in an honest, organic way is the way to produce content that truly connects and makes you that much more approachable.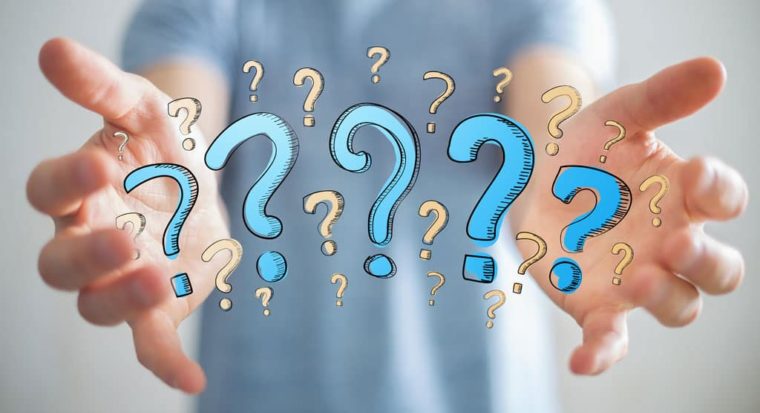 Here are some ways that will allow you to ask harder questions and maybe compel you to answer them with content that reflects who you actually are as a company.
Cool. So, what does this language actually look and sound like?
I just spent the last four paragraphs talking up a big game about what effect approachable, trustworthy language can have on your image, so I suppose I should start sharing examples. Sidenote: what I'm getting at has been plaguing writers and content creators since the dawn of time and has no standard definition. It's subjective as heck, but we sure know it when we see it.
Okay, we understand this name gets tossed around the catering world quite a bit, but I would be remiss if I didn't point to 24 Carrots as a good example of a caterer with content that puts them high on the reliability scale. FYI, 24 Carrots is not a client, but they are one of the top caterers that clients point to when we ask them during our web building process who they think has an awesome website.
It's not hard to find out why. Here's the opening line on their homepage:
At 24 Carrots, our events aren't just business transactions. We become personally invested and treat you like a member of our family, because for us, it's all about personal connections.
"Our events aren't just business transactions." Mmm. Did you taste that little bit of spice right there?
Then for the sweet part. "We become personally invested and treat you like a member of our family." 24 Carrots isn't a family restaurant, but they sure know how to make you feel like family.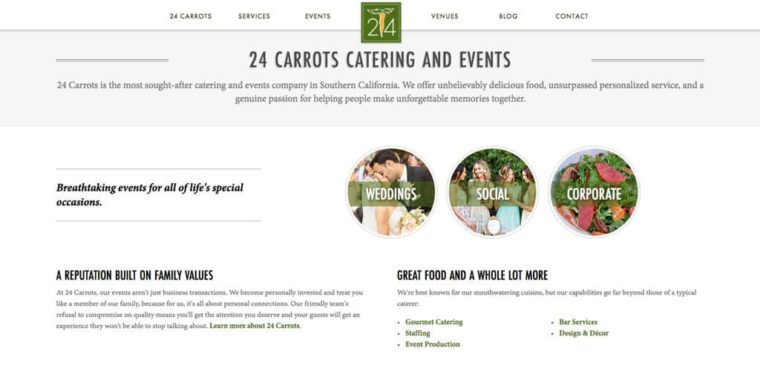 These are some loaded words to put out there onto the internet, but if your branding measures up to what people say about you, it's YOUR image, so your message and sound is fair game. All I am saying is that just because you're attentive, detail-oriented and a polished professional doesn't mean you have to always spell it out that way. You are allowed to have a little fun, turn some heads and, yes, still be known as a humble, service-driven group of people.
Picnic People is another example of a company with a website that allows their personality to come out and play a little bit.
We know we need to show up at Mission Bay at sunrise to snag that perfect spot by the water. We know that good BBQ and craft beer is taken seriously. Most of all, we know that San Diegans like to play as hard as they work, which is why our goal is to provide them with delicious picnic catering and an event where fun, relaxation and belly laughs are top priority.
Katherine's Catering is a prime example of a caterer that cares about letting their feels roam free and using language that is reflective of said feels to reach their audience in a way that shows that they are listening and caring. With heart-centered leaders and staff that feel proud about their work together, it's not hard to do. Whenever we get Katherine and her team talking, the passion oozes. Read about the lengths they go to for their tailgates or how much they love the holidays. The way they speak about their clients and work only makes them that much more of a leader in hospitality.
Paying closer attention to customer reviews
It happens all the time. We assume we know how to sell ourselves without incorporating the feedback of the customer. Remember that it's all too easy to fire off answers and assume we know what people want.
A lot of clients like it when we incorporate customer testimonials on a page on their website or in a blog. Big, bold quotes in fancy lettering spaced out in an up-to-date review? Automatic read.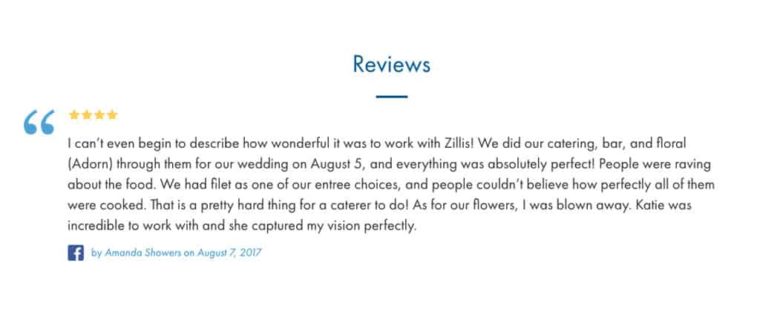 Though having testimonials throughout the site signals that you pay attention to client feedback, do you know what else is? Having their language sprinkled throughout your entire website. Think about the best Yelp review someone has written about you. They probably used some of the typical terminology to describe you—maybe you were "seamless" and "took care of everything." But they probably also threw in their own non-marketing way to describe things, giving it that unique perspective and authentic read.
One of my favorite parts of my job is reading online reviews for our clients. I genuinely get a good kick out of some of them, I might add, but that's a topic for another day. Anyway, I was recently putting together an informational venue blog for one of our clients. One of their venues I was writing about features peacocks that waltz around the grounds. A customer really liked it and described the setting in great detail. You could feel the delight in that review.
Instead of me simply saying, "It's a state-of-the-art facility in one of the most beautiful locations with stunning waterfront views," I talked a little bit about the peacocks. Using client language helps you paint a fuller picture of what actually is. Not to mention, it shows that you do your homework and you're paying attention to the customer experience!
Another blog we wrote recently for a customer involved an actual live customer. I interviewed an actual customer over the phone and then we put together an entire blog about it from her experience.
A moment of silence for overused buzzwords
Buzzwords. The more you use them, the more they lose their meaning. "The process will be seamless." "Let us create your vision." "We handle all the details." There is nothing wrong with maintaining a polished image, but what is it exactly that makes you different from the six other caterers in the area?

Allow your brand to have a genuine conversation. It's one of those things that's hard to pinpoint, but you know it when you see it. It's like walking into a Tesla dealership and actually being invited to sit down in one of their cars. Content that is down-to-earth and relatable has a more powerful effect on those who are scoping you out and hopefully will want to work with you.
Don't be afraid to reinvent yourself
It is hard to break the mold regardless of the industry you're in. If your brand is confined to tired tropes and your message is not resonating, change it up! Our favorite campaigns to work on are centered in reinvention. When a client says they want to change their brand up, we look for ways to help them reestablish themselves, reach a different audience or diversify their services.
Tasty Catering is a good example of a company that wanted to reinvent itself. When we created their "Suns Out, Buns Out" picnic billboard, some were a little concerned about the response from the many professionals they cater to. As their marketing company, we weren't too worried. We know what they are capable of. And as it turns out, it's one of our most popular billboards to date, and we've gotten a lot of positive feedback out of it. They realized professional can be fun. Kind of like a mullet, you know?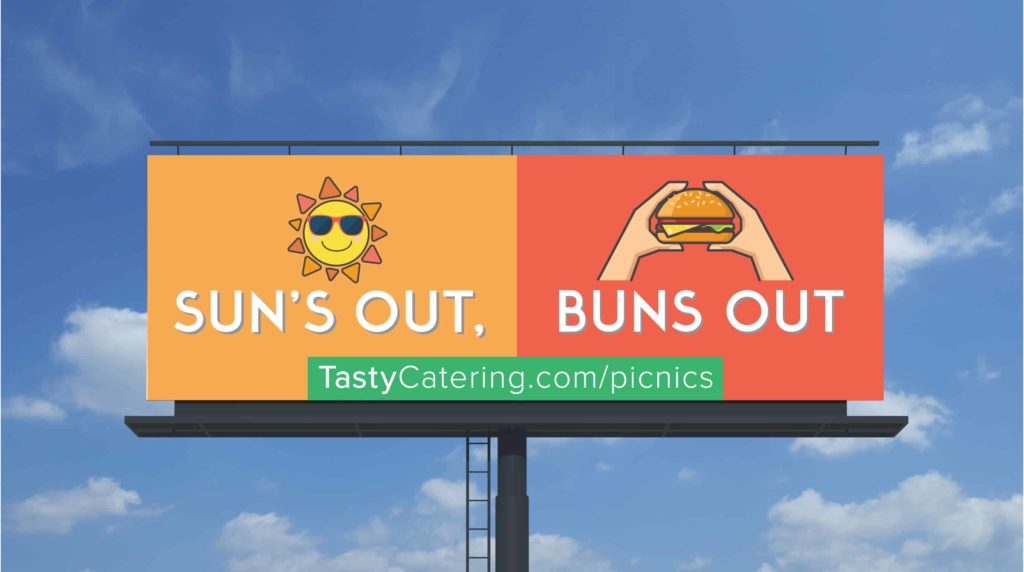 Consumers as a whole are interested in brands they feel comfortable with. In the age of social media facades and Google search rabbit holes, it's only more desirable to be able hold onto something. If you're looking for ways to bring your content to a human level, we would be happy to have that conversation with you.
It's noisy out there. How will you stand out? Let's talk about it!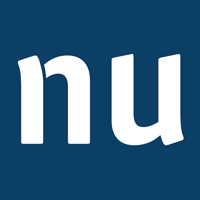 Meet Nuphoriq
Nuphoriq is a marketing company for caterers and event venues. And we're fun to work with! We work alongside everyone from family businesses to the Leading Caterers of America and partner with organizations like the ICA, LCA and Catersource.
More posts you might like