Sales
How One Caterer is Using Big Data to Drive Sales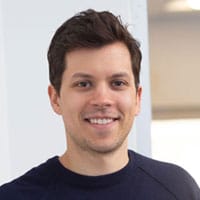 by Michael
Big data. Data revolution. Data-driven.
Talk of data sounds mysterious and intimidating. What is this new phenomenon we need to understand?
Well, it turns out we've always used data to run our catering companies. Food costs, labor percentage, cost per plate, closing ratios, sales figures—all data.
Big data simply refers to the amount of data now available thanks to technology. Google searches, customer databases, Yelp! reviews, Internet history—all "big" data.
Big data is big—even revolutionary—because there is so much of it. More data has been created in the past two years than in the entire history of humankind.
That's good news for business owners.
The data already exists. You just need to figure out how to use it.
The best place to start is with your sales process. As you'll see, incorporating data into sales processes is easier than you think.
And it's worth it. Good use of data leads to increased sales staff productivity and ultimately higher sales.
Here are two ways you can start using big data to drive sales at your company.
Contact Form > Catering Software Integration
If you already have great workflows thanks to modern catering software, you are one step closer to a better sales process.
Here's the story of Purple Onion Catering Co., a prominent caterer in Washington, D.C. who worked with us to integrate data into their day-to-day sales.
Flashback to 2015—Purple Onion had just launched a new brand and website.
Like many sites, PurpleOnionCatering.com featured a contact form. Using the form, prospects would submit information like their name, email address, event size, event date, and other preferences.
Purple Onion's contact form was converting well.
Almost too well.
Online leads were up over two times vs. their old website. Each time a form was submitted, the Purple Onion sales team had to manually input the data into their catering software. This was costing hours every week that could be better spent making calls and building relationships.
Furthermore, owner David Jones knew that he had a treasure trove of data on prospects that his current system couldn't use to Purple Onion's advantage. Bothered by these inefficiencies, David wanted a way to make the most of all this data.
A few days later, in a meeting with representatives from Purple Onion's long-time partner Total Party Planner (TPP), Dave realized he had the power to implement a solution immediately.
What if contact form submissions were sent directly to TPP?
This would completely eliminate the need for his staff to manually input submissions.
Soon after, we facilitated an integration between David's contact form (powered by WordPress) and TPP.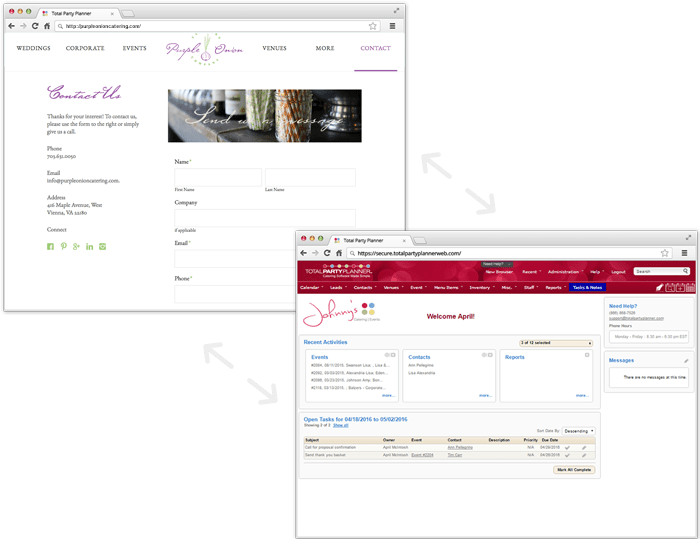 Just like that, David had a better sales process.
Now, when a visitor to Purple Onion Catering Co.'s website submits a form, data is sent directly to TPP. It is immediately recorded and compared to all of the other contact forms.
Purple Onion is able to track the submissions, identify trends, respond to inquiries more quickly and save an abundance of time doing it.
Dave can see deep into his leads, identifying factors like the most popular service style, venues and days.
And his sales staff spends zero time on data entry.
A Better Sales Process
It may sound simple, but integrating your contact form and catering software can save serious time.
A mid-size caterer with a good website can expect 60 contact form submissions a month.
If it takes a sales team member just five minutes—a conservative estimate—to transfer this entry into TPP, then over five hours every month are spent on this simple process.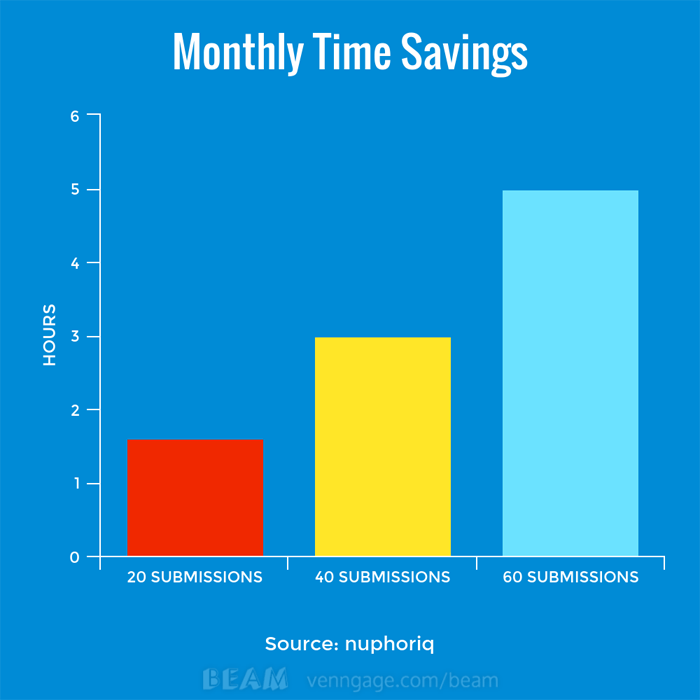 And if your sales team takes ten minutes to enter a contact form?
That's ten hours—more than a full workday—of lost time.
Think about how many potential clients your sales team could talk to using those five hours and what that would translate to in terms of revenue.
Ask the Right Questions
If you don't have catering software, or if talk of "integration" seems complicated, there's another way to start collecting and using data to drive sales.
[Note: In many cases, integrating your contact form and catering software is easy. If you're interested, send me an email and we can get started today.]
Step 1: Discover where clients find you
Have your marketing team add a field to your contact form that asks: "Where did you hear about us?"
Including the following as options. Also include your other common lead sources.
Referral
Internet search
Event planner
Venue
WeddingWire
The Knot
Step 2: Develop new strategies based on responses
Once you've collected enough data on where your customers are coming from, say, 100 responses or so, adjust your marketing to leverage strengths and mitigate weaknesses.
For example, if you notice that The Knot is driving more leads than WeddingWire, take a closer look at both profiles. Try to uncover which profile is better for your business.
Does one profile have better pictures than the other?
Or more reviews?
From here, you can either get your slacking profile up to speed (e.g., add pictures or details, encourage more reviews) or choose to invest more heavily in the profile that is driving leads.
You Have the Data, Now Use It
While data and analytics can seem like two fear-inducing words, we promise that taking even simple measures to incorporate them into your sales process, like Purple Onion's contact form, can seriously revolutionize how you drive sales.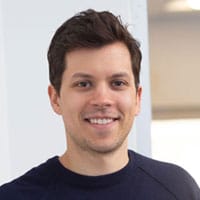 Meet Michael
As Nuphoriq's Web Director, Michael oversees all web projects and develops internal systems to keep our team ahead of the curve. He holds a degree in strategy from Trinity College Dublin, and worked freelance before joining Nuphoriq in 2012. Michael's favorite pastime is reading epic fantasy while enjoying premium beverages, such as sparkling water, tea and coffee.