Marketing
Our Top 10 Favorite Projects of 2019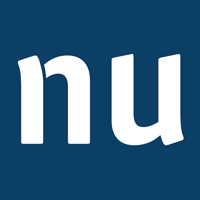 by Nuphoriq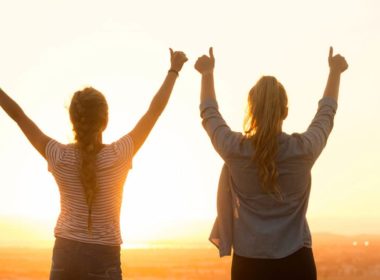 Honestly, this year was quite the whirlwind for our team, but we couldn't be prouder of the work we're doing for and alongside our clients.
When you live by values like "choose courage over comfort," "think big" and "know your purpose," you certainly feel called to put forward your best effort every day. Yet as any small group of creatives and entrepreneurs discovers in the middle of the wind and grind—it's not easy. That's where value #5, "appreciate the journey," comes out to play.
We certainly have a lot to appreciate. Check it out: This year we published seven websites! Crave Catering, Joy Wallace Catering, Simply Fresh Events, Proof of the Pudding, TEPCON and CK Catering. And six more are just waiting to be birthed: Miraglia Catering, the Manor at Silo Falls, Olde Farmhouse, McHale's Events and Catering, Philadelphia Catering Co. and our very own Nuphoriq website.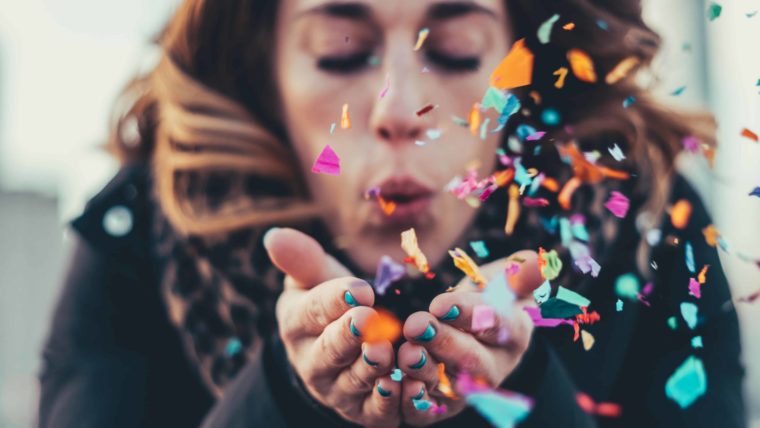 This is exciting stuff, guys! With every new website, we work through the kinks and refine our processes, always wanting to know how to add more value for the people we work with and their audience or clients. This is not limited to websites. As a matter of fact, our client onboarding, proposals, content and social media services have all gotten glam-ups in 2019.
I asked everyone on the team for their favorite projects they worked on—ones they were most pumped about this year. And then I also bribed them with candy to tell me what they're looking forward to for next year. (Actually, they did it willingly, without the candy.)
We hope that one of the projects here will inspire your own marketing plans. If anything, it could be a good prompt to use with your team to get them excited about what they've accomplished together and what they look forward to.
Jamie Pritscher, Co-Founder & CCO
Client Appreciation Gifts
Why I'm proud: I love puns and gifts that make people laugh and smile.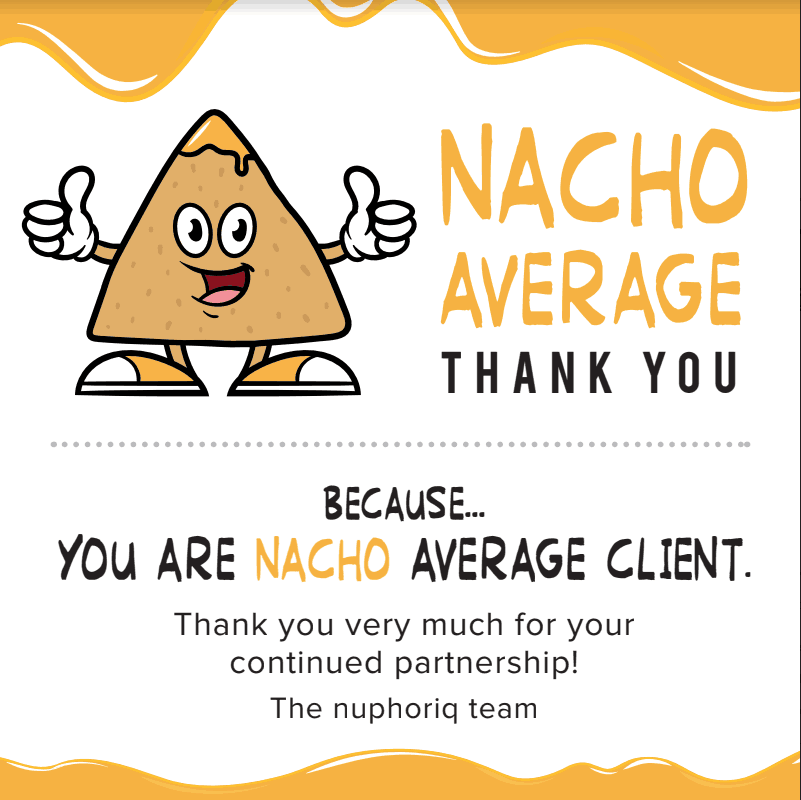 "Thanks for the cute box of treats. I can always count on Nuphoriq for the food puns." – Abbey Duke, Sugarsnap
"Thanks for making us Nacho Average Catering Website!!! You gals rock….thanks for always being so thoughtful ? You sweetened our afternoon!" – Leslie LaSorsa, Crave Catering
"THANK YOU…FOR THE WONDERFUL BOX OF GOODIES AND GOOD CHEER. YOU ALL HAVE SUCH A WAY WITH WORDS AND SPECIAL TOUCHES – WE WANT TO BE JUST LIKE YOU! Everything was delicious and beautifully packaged. Thank you again. – Katherine Farrell, Katherine's Catering
What I look forward to in 2020: Catersource 2020 in Vegas; we will be attending and speaking. Come visit our booth! This is our favorite time of year because we get to see all of our catering friends under one roof.
I will also be co-teaching a class on hospitality leadership at Roosevelt University in Chicago. I'm excited to share catering knowledge with tomorrow's hospitality workers and learn from all of them!
Erin Walter, Co-Founder & CEO
Zilli Hospitality Group Venue Comparison Tool
Why I am proud: This project included the perfect mix of collaboration and skill. I loved that we were able to take an idea from our client and bring it to life. Two members of our web team, Benjamin Dowell and Michael Larson, created a piece of technology that out-does sites like The Knot and WeddingWire. It was awesome to see what they are truly capable of.
I learned that we can find ways to do just about anything online. And in today's day and age, that's invaluable to clients.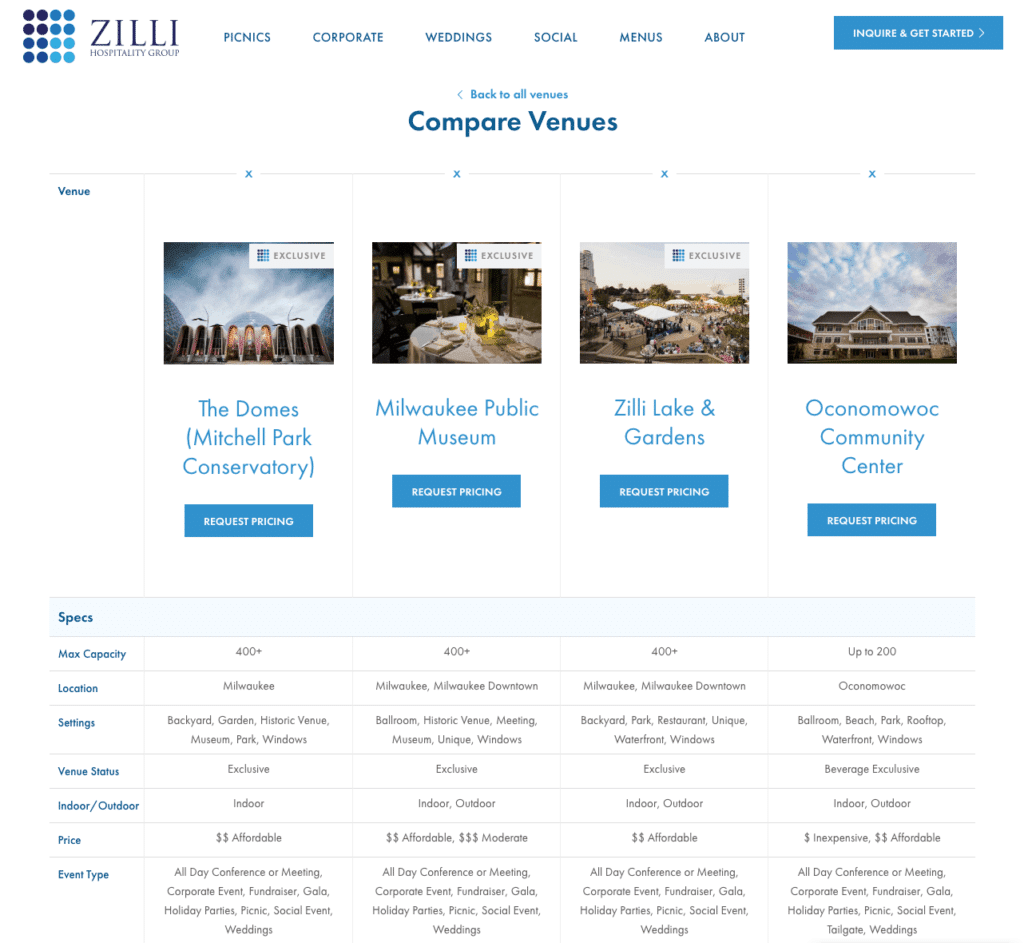 What I look forward to in 2020:
I'm truly excited to continue to improve and grow our business. Finding a way to package our services that makes it super clear what we do and gives us a singular focus is the dream—and we will get it straight next year!
Sarah Cimarusti, Lead Copywriter
Why I am proud: Our team was fortunate enough to visit Leslie, Kim and the whole Crave team in Austin. We got to see their office, kitchen and venues. They showed us around the town and gave us an insider's perspective of the Austin they know and love. It was super valuable to experience the interworking of their company and location up close. And it also gave us the chance to get to know them and hear them talk about what they've built together. It really makes a difference when you're trying to create a product that's authentic to the client and that makes them stand out.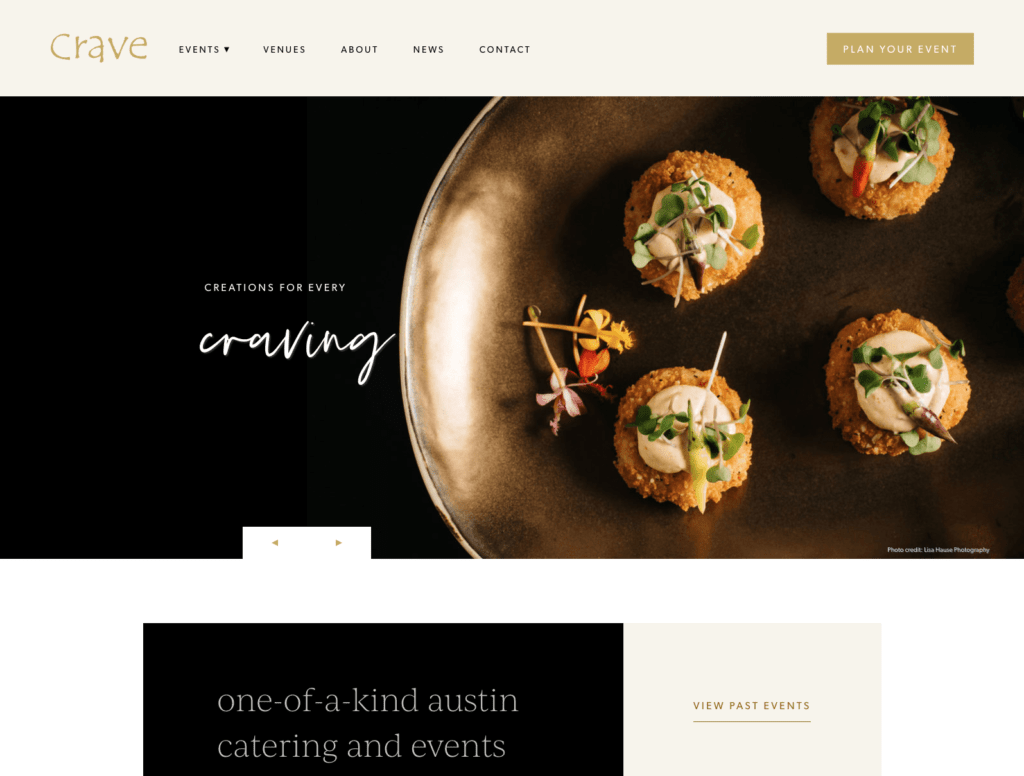 What I look forward to in 2020: I'm eager and anxious about the fine-tuning of our content process and to be able to dig deeper into what works and adds value to our clients' projects. I'm also excited about our own marketing efforts and how we can better distinguish ourselves as niche marketing professionals that are in it for the right reasons.
Michael Larson, Web Director
Ultimate Guide to Catering Software
Why I am proud: It's rewarding to help great people create new and great things. A partner of ours, Chef John Reed, is a catering software expert and consultant. We teamed up this year to create the definitive guide to catering software. It is a custom tool designed to help caterers find the right software for their business, and it features Chef's own review of pretty much every piece of software on the market. To be published December 2019. Sign up for Catering Trends if you want to know when it's out!
What I look forward to in 2020:
Launching the new Nuphoriq website! I'm excited to spend more time on our marketing and share what we know with caterers. We're going to do a lot of cool stuff on social media, like catering trends, videos and more.
Benjamin Dowell, Web Director
Why I am proud: I learned how to create an entirely new back-end to work with WordPress 5 (Gutenberg update). This resulted in faster development times, more flexible page layouts and the ability to make pages to look like the front-end inside WordPress (via the block preview mode).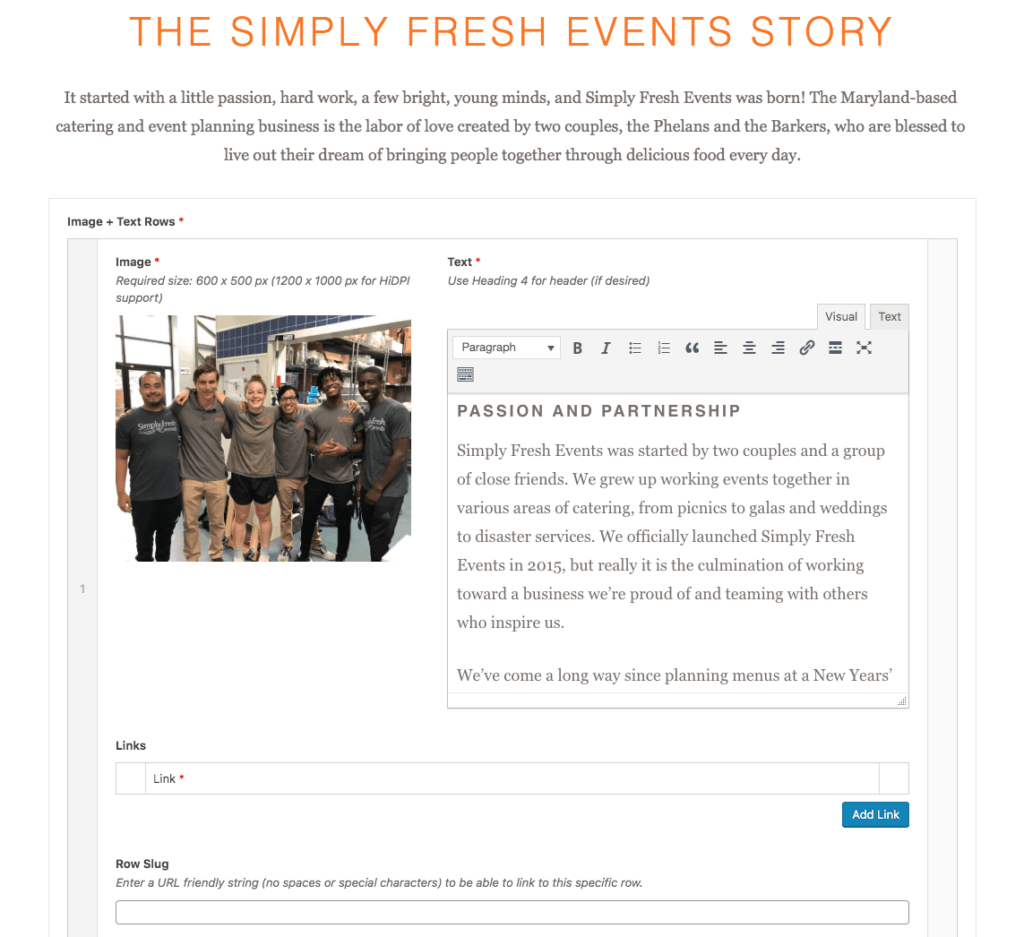 What I look forward to in 2020:
Continuing to polish our process so that web builds are smoother and faster. I'm also excited to see WordPress's continued evolution and what developers can do with new UI (Gutenberg).
Karen Walter, Director of Marketing Operations
Sensational Host Events & Catering Venue Pages
Why I'm proud: I loved these new venue pages for a few reasons. First, they included side-by-side amenities for events and weddings. I also like that they now feature blogs/case studies and press mentions. I think this tie-in could only further strengthen the relationship between the caterer and venue.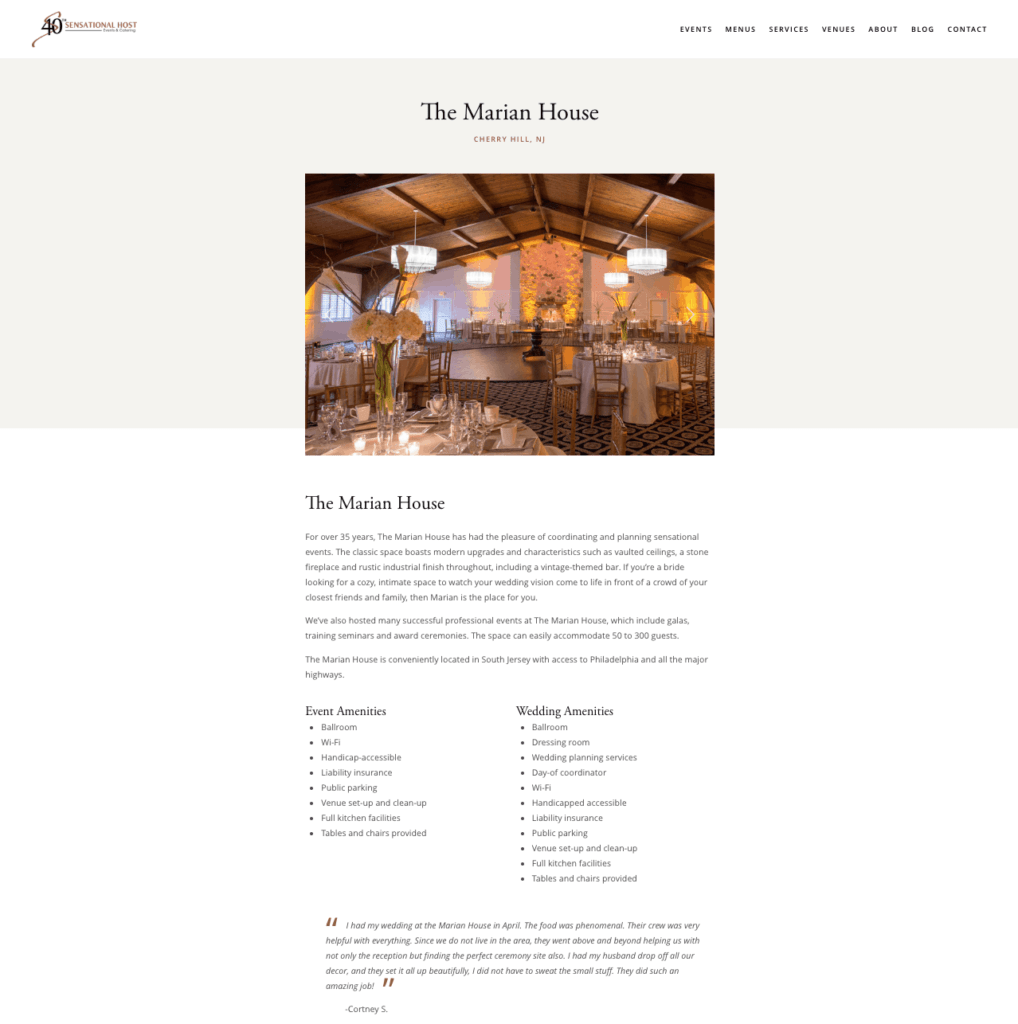 What I look forward to in 2020: I'm looking forward to our new Nuphoriq website and all the internal processes to help us complete work quickly and to the best of our ability.
Emily Ebert, Graphic Designer
Tasty Catering's Picnic Billboards
Why I'm proud: In honor of Tasty Catering's 30th anniversary, we had the pleasure to get really creative with these billboards. We went with an '80s theme. This was a fun challenge, since we took five popular '80s songs and turned them into five unique billboards with a picnic flare. It was very rewarding to design something on such a large scale and see it in person.
What I look forward to in 2020: I recently joined our web development team, and I am thrilled for the challenge. I look forward to managing the website design process and seeing how we can make our clients' website dreams come to life.
Jeanette Esquivel, Social Media Director
Nuphoriq's Social Media Service
Why I am proud: This year we got our social media service up and running. Our team has been working on streamlining it and creating a clear definition as to what we do and what we don't do.
I've also been helping clients like Katherine's Catering, Tasty Catering, Inc. Magazine, International Caterers of America and That's Caring run their social ads. Each of these clients has their own individual goals and needs, which makes each ad unique. It can be frustrating at times, but I can't even begin to tell you how much I've learned over the past six months.
What I look forward to in 2020:
Continuing to build on Nuphoriq's social media. We're all so closely tied to it, and it feels like my baby. I'm excited to see where it goes and especially how our posts can help people. We always want to provide value in everything we do.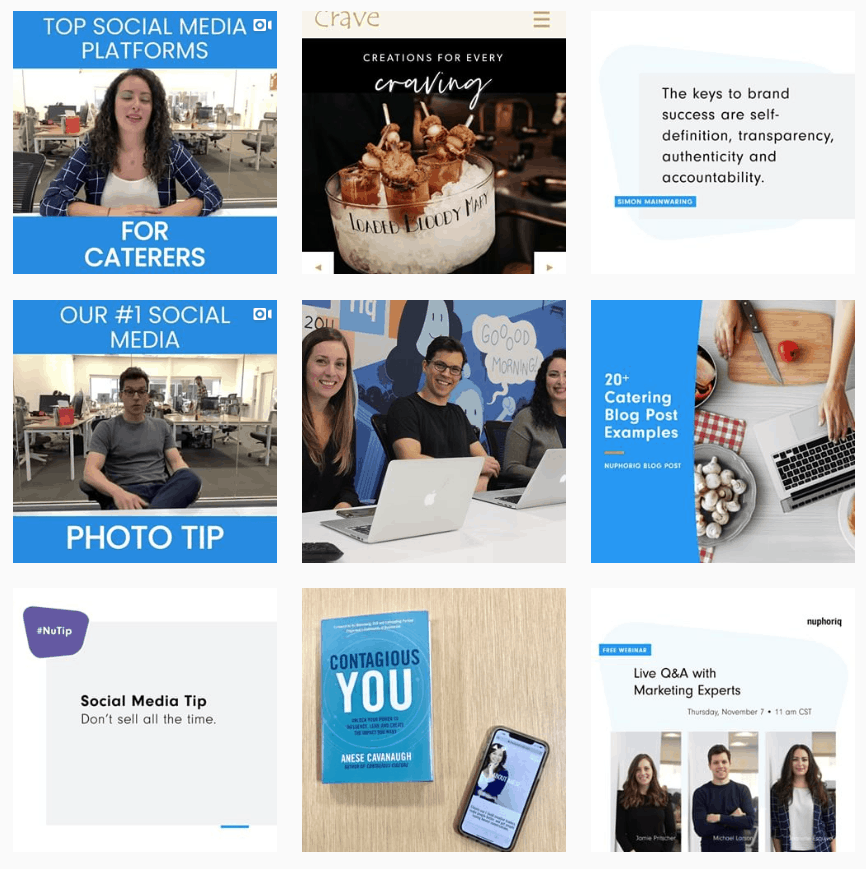 Peggy Kulato, Client Solutions Specialist
Client Onboarding
Why I'm proud: I dig bridging the gap any way I can between our clients and team. I think it's important to ask those outside-the-box questions that really bring out our clients' personalities so that the team feels more connected to them and the work we're doing. I want our clients to feel connected to us, too! That's the intention behind internal projects like our thank-you videos. It puts a face on who we are.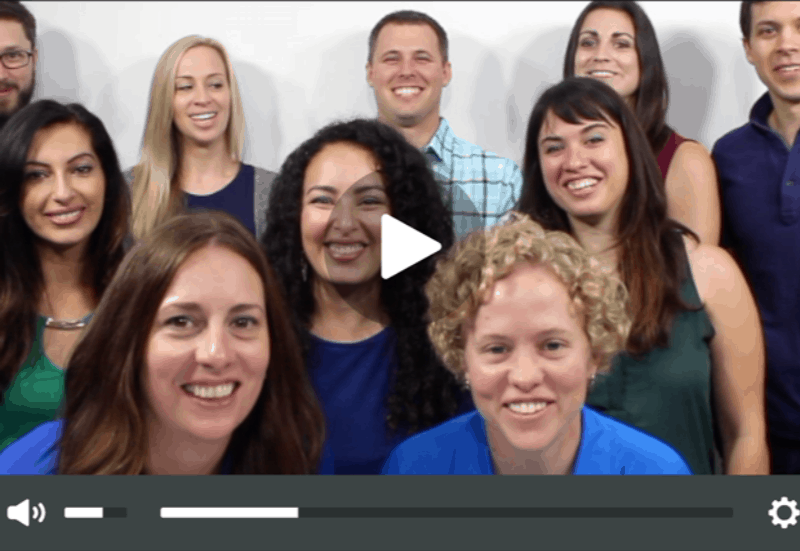 What I look forward to in 2020: I am looking forward to our new website!!!!!!!!!
Brian Ottosen, Digital Marketing Specialist
Philadelphia Catering Company Website
Why I am proud: This year we revamped our entire web process to increase both the efficiency and quality of our work together. I just think it says a lot about our team that we are always working on our processes to make sure that our clients get the best possible experience and products from us.
I love learning about the best ways to track information. It's my responsibility to dig through raw data and convert it into a usable format that we can use to track trends that will improve the work we do on websites.
What I look forward to in 2020: I am looking forward to my new role of running the website process from beginning to end. Should be fun!
Bibi Dowell, Web Designer
Olde Farmhouse Website
Why I am proud: The challenge was to create a farmhouse chic brand that would appeal to city dwellers. Balancing design elements was key in clearly communicating this. I like that I was able to use some free form design elements here, but kept it classy with the type (font) combination and lots of negative space. I love when clients have a clear feeling that they want to communicate but are unsure of exactly how to do it. That's where I have to dig deep and figure out how we're going to appeal to their perfect client. Website launching in 2020.
We hope you'll be a part of our journey this year. What are you looking forward to in 2020? Maybe we can help. Give us a call at 847.709.2799 or contact us online to talk about your marketing needs!
More articles you might enjoy: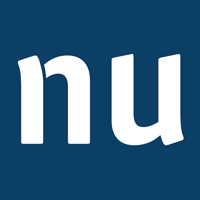 Meet Nuphoriq
Nuphoriq is a marketing company for caterers and event venues. And we're fun to work with! We work alongside everyone from family businesses to the Leading Caterers of America and partner with organizations like the ICA, LCA and Catersource.
More posts you might like