Marketing
13 Ways to Prepare for Growth in 2016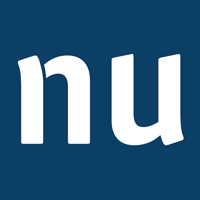 by Nuphoriq
Most caterers are predicting business to be up in 2016. What can you do NOW to prepare for the growth or make sure that you're not left behind while everyone else is growing?
Thanks to the ICA's incredible survey, we know how busy caterers are expecting to be in 2016. The word for the year seems to be growth, which means you should be preparing now for what changes lie ahead.
But what can you do now to prepare for your expected growth next year, or, perhaps even more vital, what can you do now to make sure you capture that growth and not your competitors?
1. Create a Marketing Plan
This might sound simple and basic, but creating a marketing plan for next year is very important, and it all starts with solidifying your biggest goals for 2016. Is it to increase your corporate event market share? Double your wedding business? Introduce a new menu? Start the preparation now by working backward from your exact goals and creating your marketing calendar. Then, strategize as to what the absolute best way is that you can set your business up for success. If you goal is to increase corporate event market share and you're spending half your marketing budget on wedding venue promotion, for example, then you probably aren't using your goals as the main drivers of your marketing strategy and likely won't ever reach your goal.
2. Get On More Wedding Websites
Spend the month of January upping your wedding game by being present on more than just the top two wedding directories Try one or more of these sites, which range in price from simple, completely free profiles to more advanced profiles (which range in price based on your region).
3. Redo or Create New Case Studies
You probably planned and executed a number of amazing events in 2015. Use this time to put together case studies from these events, housing them on your services pages or on your blog. Your sales team can use those case studies as sales tools, you can promote them on social media and you can get more people to stay on your website for a longer period of time if you create interesting enough ones! Hint: Great, professional photos are key to successful case studies.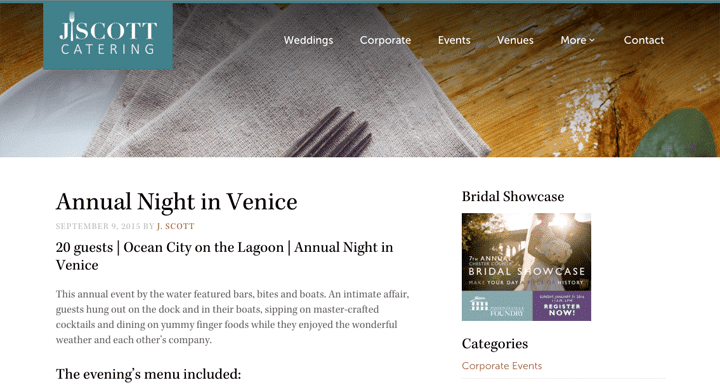 And if you create a really cool case study, we would love to feature it in our
newsletter
, which is sent out every month to 100s of caterers across the country.
4. Work On Venue Relationships
First thing's first, how much business did you get from each venue in 2015? How did it compare to 2014?
Create a list of leads that each venue sent your way, analyzing how your relationship(s) have been in the past and how they might shape up in the coming year. It's also nice to send a thank you note, or even a holiday/beginning of the year gift to the coordinator of the venues that helped your business in 2015. It's a nice, simple gesture that will go a long way in the coming year.
5. Grow Your Inbound Links
Do you work with a list of preferred vendors?
Are you on other companies' preferred vendor lists?
Create a list of every single vendor and venue with whom you do business, then visit each one of their websites to see if you 1) you're listed on their site as a preferred vendor or partner, and 2) you have a link back to your own website on theirs. Approach the partners, vendors and venues that are missing either of those, asking if they would consider trading links (assuming you already have or plan on including a link to their websites on your own site).
Inbound links are great for SEO, plus they're another way for potential clients to find you.
6. Update/Improve Your Website
If you've ever been looking for the time to update or redo your website, this is it. After the busy holidays, before the crazy summer, it's time to jump on it!
Generally, websites that are a couple of years old (three or more) are usually in need of an update at the very least. Websites older than, say, five years old or more, usually need to be revamped in a larger capacity.
Technology changes at such a pace that we constantly have new guidelines to meet, such as increased loading speed for instance. You'll want your website to keep up with what people have come to expect on a well-performing site or they'll find another company that does. Design is also just as important as technology. In fact, the two go hand-in-hand. Design trends changes frequently, too, and are one of the top factors in how long a visitor remains on your site and how quickly they exit. It's just the nature of the game!
Answer these four questions to figure out if you really need a new site.
7. Hack Your Contact Form
We've been really pushing this hard all year, but that's only because a contact form is a huge component of a successful catering website. Optimize your contact form to increase lead generation.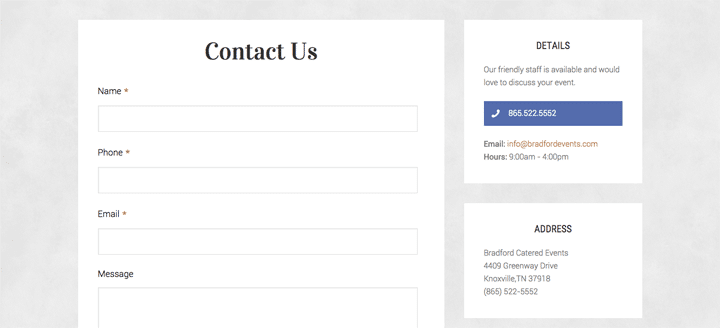 8. Plan Your Conferences & Trade Shows
Are you going to Catersource this year? Or an ICA or LCA, ISES, MPI or NACE events, or perhaps some other industry event this year?
You should plan on it!
Staying up-to-date and innovative on the latest food and event trends, styles and services, as you well know, is a large part of the industry, especially moving into 2016. The more consumers exposed to the crazy cooking shows and challenges, the more they expect for their own events. These are great ways to connect with peers and mentors to learn from each other and swap some culinary ideas.
9. Participate in a Work-and-Learn
The beginning of the year is a great time to plan a work-and-learn between your company and a similar caterer somewhere in the U.S. Of the caterers we've talked to about this and who have participated in one or more, they have all come away with TONS of new ideas, better ways to organize, insights and goals that have helped them on many different levels of the business.
10. Update Your Website Photos
In addition to adding new case studies to your website, consider refreshing all of your galleries or main page photos with some new photos you have from this past year. Keep it fresh!
(Don't forget about adding photos to The Knot, WeddingWire, social media and other online profiles, too.)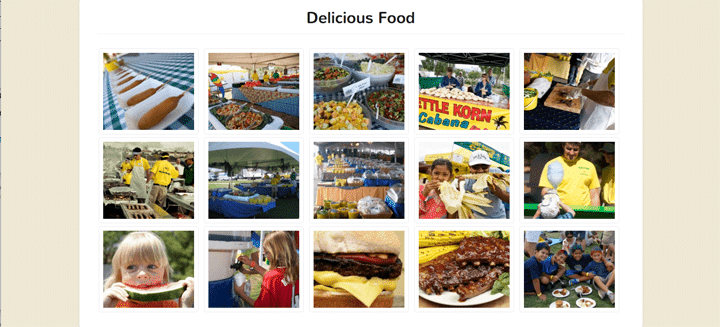 11. Reward Your Staff
You do this for companies all year long…the bit of calm that comes after the holiday season is the perfect time for you to reward your own staff. Plan a company party to celebrate a great 2015 and to welcome a renewed energy and motivation for an even better 2016.
12. Send a Special Gift to Seasonal Staff
If you had a particularly great year with seasonal staff (and you would like them to stick around for another year when it comes time), consider also doing something to thank your all-star seasonal staff as well.
Sometimes it's as simple as a thank you card or small treat and other times, you might want to invite all or some of them to your company party.
Here's a fun example: Tasty Catering's staff received this infographic detailing their accomplishments over the picnic and holiday seasons the year before.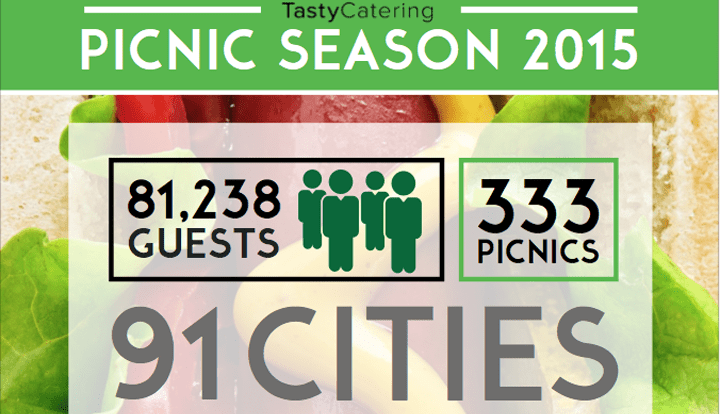 13. Set Up the Right Resources
We all subscribe to newsletters and publications, such as Catersource's Catering Magazine, Biz Bash and more. Here comes the plug for the catering world…(and we legitimately wouldn't be saying this unless we felt it was truly beneficial to caterers). Catering Trends Monthly is a monthly newsletter with five must-read resources sent straight to your inbox each month. No spam, no weird, unnecessary emails, just five articles from around the Internet that apply to caterers and your quest to grow your business.
Every caterer is different and in different stages of business, with different needs and wants and goals. That being said, there are more than 13 things you can do now — many of which we can help. At the very least, we'd love to hear what your plans are to keep up with the business in 2016 (and perhaps lay a super thick foundation for growth the next three to five years!).
Answers to Your Questions: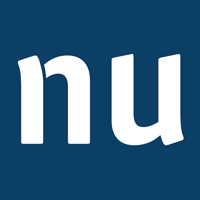 Meet Nuphoriq
Nuphoriq is a marketing company for caterers and event venues. And we're fun to work with! We work alongside everyone from family businesses to the Leading Caterers of America and partner with organizations like the ICA, LCA and Catersource.